It's Bake-Along No. 88! I've selected the theme "Galette" to bake together with my baking buddies,
Lena
and
Zoe
. A galette is a rustic-style tart, is pretty much similar to a tart or pie, the difference is, it is made with a free form pastry dough which is rolled out, filled the centre with the filling of your choice and just wrap them up by folding over the pastry all around the sides, leaving the filling visible in the centre. No special tart pan or mould is needed. You just need a baking sheet. There's no need to be so perfect in shaping them, after all, it is a free-form rustic tart.
I made a savoury galette, one that I have been thinking of making for ages, from this fabulous book "The Art & Soul of Baking" by Cindy Mushet, from Sur La Table.
This galette has all my favourite ingredients; cheese, potatoes and caramelized onions. With the flaky, buttery, tender-crisp tart pastry dough, a slice is just perfect either for lunch or even dinner.
I had it for tea, along with a cup of warm tea, makes a delicious afternoon tea-time treat indeed.
Potato, Onion, And Gruyere Galette
(adapted from "The Art & Soul of Baking", Cindy Mushet, or
here
)
Ingredients
1 recipe Flaky Pie or Tart Dough (refer recipe below)
Filling
1 large onion (12 ounces), thinly sliced
1 1/2 tablespoons olive oil
1/4 teaspoon kosher salt
5 grinds black pepper
1/2 teaspoon finely chopped fresh thyme or rosemary
4 ounces Gruyère cheese, grated

(I've used Cheddar)


1 pound red potatoes
To Finish
1 tablespoon olive oil
Pinch kosher salt
3 grinds black pepper
1 egg
For Serving (optional)
Crème fraiche
Golden caviar
Equipment
Chef's Knife, Sauté Pan, Small Bowl, Pastry Brush, Paring Knife or Skewer, Metal Spatula, Cake Lifter or Two Spatulas or the Bottom of a Tart Pan
Advance Preparation: Roll the prepared dough into a 13-inch round, transfer to a parchment- or silicone-lined baking sheet, and chill for 1 hour. Preheat oven to 400°F and position an oven rack in the lower third.

Make the filling: Heat the sauté pan over a medium-high flame. Add the olive oil and when it is hot, add the onion slices to the pan. Cook, stirring occasionally, until the onion is soft and lightly colored, 8 to 10 minutes. Stir in the salt, pepper, and chopped thyme or rosemary and blend well. Scrape onto a plate and set aside to cool. Wash the potatoes and pat dry, but don't peel them. Cut into 1/4-inch-thick slices.

Assemble the galette: Mix together the cooled onion mixture, grated cheese, and potato slices. Spread the mixture over the prepared pie dough, leaving a 1 1/2-inch border around the edges. Drizzle with the remaining olive oil and sprinkle lightly with salt and pepper. Fold just the border of the dough up around the filling, pleating it to make a pretty, circular enclosure, leaving the center open. In a small bowl, beat the egg with a fork. Lightly brush the pleated dough with the egg to give it shine and help it brown in the oven.

Bake the galette for 45 to 50 minutes, or until the pastry is golden brown and the potatoes are soft when tested with a paring knife or skewer. Check the bottom of the galette for doneness by lifting slightly with a metal spatula. Transfer to a rack to cool for 5 to 10 minutes.

Transfer the galette to a serving plate with a cake lifter or two spatulas, or the bottom of a tart pan slipped underneath to keep it from breaking as you move it. Slice and serve warm.
Flaky Pie or Tart Dough
(adapted from "The Art & Soul of Baking", Cindy Mushet or here)
Ingredients
1 stick (4 ounces) cold unsalted butter, cut into ½-inch pieces
3 to 4 tablespoons cold water
1 ¼ cups (6 ¼ ounces) unbleached all-purpose flour
1 ½ teaspoons sugar (omit for a savory crust)
¼ teaspoon salt
Equipment
Small Measuring Cup, Food Processor Fitted with a Metal Blade, Large Bowl, Rolling Pin, Pastry Brush, 9- or 10-inch Pie or Tart Pan, Kitchen Scissors
Place the butter pieces in a bowl or on a plate and freeze for at least 20 minutes. Refrigerate the water in a small measuring cup until needed.

Mix the dough: Place the flour, sugar, and salt in the bowl of the food processor. Process for 10 seconds to blend the ingredients. Add the frozen butter pieces and pulse 6 to 10 times (in 1-second bursts), until the butter and flour mixture looks like crushed crackers and peas.

Immediately transfer the butter-flour mixture to the large bowl. Sprinkle a tablespoon of the cold water over the mixture and "fluff" it in, then add another, and another, until 3 tablespoons have been added. Continue to fluff and stir 10 or 12 times. It will not be a cohesive dough at this point but a bowl of shaggy crumbs and clumps of dough. Before bringing the dough together, you need to test it for the correct moisture content. Take a handful of the mixture and squeeze firmly. Open your hand. If the clump falls apart and looks dry, remove any large, moist clumps from the bowl then add more water, one teaspoon at a time, sprinkling it over the top of the mixture and immediately stirring or mixing it in. Test again before adding any more water. Repeat, if needed. The dough is done when it holds together (even if a few small pieces fall off). If the butter feels soft and squishy, refrigerate before continuing. If the butter is still cold and firm, continue to the next step. (Note: Adding the liquid may also be done on low speed in a stand mixer fitted with the paddle attachment—add three-fourths of the liquid, test for moistness, then add the remaining liquid if needed.)

Knead and chill the dough: Turn the dough onto a work surface and knead gently 3 to 6 times. If it won't come together and looks very dry, return it to the bowl and add another teaspoon or two of water (one at a time), mixing in as above, and try again. Flatten the dough into a 6- or 7-inch disk, wrap in plastic or parchment paper, and refrigerate for 30 minutes. This allows time for the dough to hydrate fully and for the butter to firm up again.

Roll the dough: If the dough has been refrigerated for more than 30 minutes, it may be very firm and hard and will crack if you try to roll it. Let it sit on the counter for 10 to 15 minutes until it is malleable but still cold. Dust your work surface generously with flour and set the disk on the flour. Dust the top with flour. Roll, turning the dough and following the directions on page 171, until you've got a 14- to 15-inch circle about ¹⁄8 inch thick. If at any point the dough becomes warm and sticky, gently fold it into quarters, unfold it onto a baking sheet and refrigerate for 15 minutes, or until the butter is firm again.

If a crack or hole forms while rolling, brush any flour away and patch the area according to the instructions on page 171.

Transfer the dough: Fold the dough circle into quarters, brushing off any excess flour as you fold. Put the point of the folded dough in the center of the pie pan, tart pan, or baking sheet and unfold the dough, lifting it slightly as necessary to ease it into the crevices of the pan. Do not stretch or pull the dough, which can cause thin spots, holes, and/or shrinkage during baking.

Trim the dough: Use a pair of kitchen scissors to trim the dough so it overhangs the edge of the pan by 1 inch. Fold the overhanging dough under itself around the pan edge, then crimp or form a decorative border (page 174). Chill for 30 minutes before baking.
********************************
For our next Bake-Along, we will be baking based on "Theme : Christmas Yeasted Bread". You may bake any yeasted bread recipe which is calling out Christmas! Link your post to our linky which will open from 3rd to 24th December.
Everyone is welcome to join us! Only current posts please.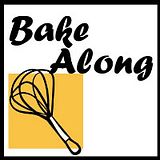 A friendly reminder when linking to our linky :
2.
Please link only new and current post,
PLEASE FOLLOW THE BAKE OR THEME
provided by us
.
Unrelated post will be deleted.