It's Bake-Along time! And this is our 30th bake! I can't believe how time just passes by, and I find myself baking our bake no. 30! Together with my baking buddies,
Lena from Frozen Wings
and
Zoe from Bake For Happy Kids
, and all our baking friends, for our 30th bake we are baking Apple-Cornmeal Upside-Down Cake, chosen by Zoe.
Great pick, Zoe, as this is a lovely cake!
You would need 3 big Granny Smith apples for the full recipe. At first, when I sliced the apples, it seems quite a lot, but once they are cooked, some of their juices will be released and when they get soft and tender, they do shrink a little. All the slices fits perfectly in a 9" round cake pan. First, the butter is melted and sugar is added in, it will start to caramelized and turned brown, takes about 3 minutes, and the apples are then added in. The caramel will turn lumpy but it will dissolve later, as the apples released the juices. Stir every now and then for about 12 minutes until apples are tender. Immediately pour the apples and caramel into a well-greased 9" round pan. (I arranged the apple slices as above before pouring in the rest of the caramel on top). Prepare the cake batter and dropped dollops of batter all over the apple slices. Gently level off the batter with a spatula.
Bake in a preheated oven at 350F for about 45 minutes until golden brown and cooked. Leave cake in pan on wire rack for 5 minutes, loosen sides and invert on a plate.
Then wait 15-20 minutes (10 minutes if you can't wait that long!) and serve. :o)
This is really good when eaten warm. The apples are really soft and tender, the cake is soft and moist, and has a lovely texture from the cornmeal. Overall, a keeper recipe!
Let's visit
Lena
,
Zoe
and all our baking friends who has baked along with us by clicking on the link below. For our next Bake-Along, we will be baking based on a theme, and our theme will be
"Whoopie Pies"
. The link will open from
23rd August to 29th August
. I'm looking forward to it, as this will be my first time making Whoopie Pies! Will it be your first time too? Come and join us, bake some Whoopie Pies for your family and join us in our blog hop linky on 23rd August. Hope to see you!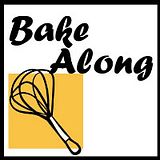 A friendly reminder when linking to our blog hop :
1. Please mention Bake-Along event in your own post linking direct to any of the hosts' post (
Joyce
,
Lena
or
Zoe
)
2. Please link only new and current post, related to the current bake or theme.
3. Feel free to display our Bake-Along badge in your post.
I'm sharing this with :
Recipe Box hosted by Bizzy Bakes
Apple-Cornmeal Upside-Down Cake
(Bon Appetit Desserts, Barbara Fairchild)
6 to 8 servings
Non-stick vegetable oil spray
8 tablespoons (1 stick) unsalted butter, room temperature, divided
1/2 cup plus 2/3 cup sugar
(I use : from 1/2 cup, less 2 tablespoons and only 1/2 cup from 2/3 cup)
3 (7-8 ounce) Granny Smith apples, peeled, cut into eighths, cored
1 cup unbleached all-purpose flour
1/4 cup yellow cornmeal
1/2 teaspoon baking soda
1/4 teaspoon salt
1 large egg
1/2 cup buttermilk
(I use a mixture of yoghurt and milk)
1/2 tsp vanilla extract (my addition)
Position rack in center of oven and preheat to 350F.
Generously spray 9-inch diameter cake pan with 2-inch high sides with nonstick spray.
Melt 2 tablespoons butter in heavy large skillet over medium-high heat. Add 1/2 cup sugar and stir until sugar melts and turns golden brown, about 3 minutes. Add apples and saute over medium heat until apples are just tender and coated with caramel, shaking pan occassionally, about 12 minutes. Immediately pour mixture into prepared pan; distribute apples and caramel evenly over bottom of pan.
Whisk flour, cornmeal, baking soda, and salt in medium bowl. Using electric mixer, beat remaining 6 tablespoons butter and 2/3 cup sugar in large bowl until fluffy. Beat in egg. Add half of flour mixture, stir in buttermilk and vanilla extract. Add remaining flour mixture and mix well. Drop batter by spoonfuls evenly over apples and spread gently with offset spatula.
Bake until cake is golden brown and tester inserted into center comes out clean, about 40 minutes. Cool cake in pan on rack 5 minutes. Cut around pan sides to loosen cake. Place platter over pan. Using oven mitts or pot holders as aid, firmly grasp pan and platter together and turn over. Gently lift pan off cake. Serve warm.




Join our blog hop, get the codes, click on the link below
get the InLinkz code