Chinese New Year is just three weeks away and I'm sure those who are celebrating CNY are pretty busy right now, with shopping and loads of things to do for the coming festive celebration. And of course, one of the things that we simply can't do without, are cookies! Jars of cookies are already being sold at the morning market near my house as early as beginning of December! If you do not have the time to make any cookies, head on to any local morning market, you will be spoilt for choice, with the many varieties of cookies that are being sold. Or if you'd rather make your own, that's even better, nothing beats homemade!

Bake-Along's theme for this week is "Chinese New Year Cookies", together with my baking buddies, Lena and Zoe, we thought it would be great to see the cookies that everyone is making for this festive CNY. Everyone is invited to join our Bake-Along #57 blog hop, bake any cookies and link your post to our linky below, only new and current posts please.
I'm sharing today a cookie which my beloved late mother used to make when we were young. These cookies are one of our favourites, and now, my kids, nieces and nephews love these cookies as well.
We called these Cherry Cookies, and being a Nyonya, we would fondly call these cookies as "Biskut Ceri". It is also called by another name, which is more commonly known as, Biscuit Samprit. I've baked them today, and these are really fresh from the oven! So good! Got to stop my kids (and myself!) from having more than one each, cos it's dinner time soon!
Back in the old days, most of the bakes are made using margarine, butter is not easily available back then. My sister still prefers using margarine over butter for these cookies, but for today, I have used butter since I did not have any margarine at hand. Either butter or margarine, these cookies are simply delightful!
Cherry Cookies, ready, and about to go into the oven.
The dough is mixed and piped out using a piping nozzle (pic below) to a shape of a flower. Cut up some glazed cherries to small pieces, and lightly press a small piece (cut side facing down) onto the middle of the piped dough, so that it resembles a pretty flower.
The piping nozzle.
Freshly baked Cherries Cookies, cooling on a rack.
These cookies are crunchy soft, yum! My family are not overly fond of cookies, their preference has always been chocolate chip cookies, but these Cherry Cookies is one of the exception. They love these!
Cherry Cookies
120gm butter (or margarine)
75gm icing sugar
170gm plain flour
20gm custard flour
60gm cornflour
1 egg yolk
1/4 tsp rose essence (or vanilla extract)
few drops yellow food colouring (optional)
Cream butter and icing sugar until light and creamy. Add in egg yolk, yellow food colouring (if using), rose essence (or vanilla), and mix till evenly combined. Add in the flours and knead to a soft dough. Do not over-knead.
Using the piping nozzle, pipe out the dough on a baking sheet lined with parchment paper.
Cut up some glazed cherries to small pieces. Place a small piece of the cut cherries in the center of the piped out cookie, pressing it lightly.
Bake in a preheated oven at 150C for about 20 minutes, rotating the pans at half-time. Cool in pan for 2-3 minutes, remove cookies and cool completely on wire rack.
Store in airtight container.
******************
To join our blog hop, bake any Chinese New Year Cookies and link your post to our Bake-Along linky. The link will stay open for three weeks, from 6th January until 27th January.
Bake-Along shall take a break in February and we shall meet again in March for our Bake-Along #58 , with our bake, Cream Cheese Brownies from How To Be A Domestic Goddess, pg 194 by Nigella Lawson or you may get the recipe here. The linky will start from 6th to 15th March.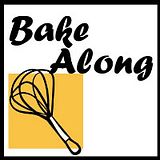 A friendly reminder when linking to our blog hop :
2. Please link only new and current post, related to the current bake or theme provided by us. Unrelated post will be deleted.
3. Feel free to display our Bake-Along badge in your post.
To join our blog hop, click on the link to get the codes :
get the InLinkz code