It's time for our Bake-Along #69, Maple Pecan Pie, selected by
Zoe
to bake together with
Lena
, myself and anyone who wishes to bake-along with us.
Pure maple syrup is really expensive over here, so I have substituted with Lyle's Golden Syrup Maple Flavour. If you are a maple syrup purist, you would probably be shaking your head, but if I make a full recipe, I would probably need to spend about RM60 just for the maple syrup alone, and that is the price for the cheapest brand. Pecans are very expensive as well.
To make the crust, I've used the food processor to mix the dough, and use only about 3/4 tbsp of water. The dough is soft and a little sticky, I should have omitted the water! The sticky dough was a little difficult to manage but I managed to line the pie pan with the dough, after lots of patching up! Can you see from the photo above, one part of the crust has dropped off, yes, it was so flaky and tender that I broke a little of the crust after baking.
The filling is made by cooking the maple syrup (Lyle's golden syrup) until it is reduced to 1-1/2 cups, and let cool to room temperature before proceeding. It is then stirred together with eggs, brown sugar, salt, melted butter and vanilla until evenly mixed. The pecans are added in, stir well to combine and this filling is poured onto the partially baked pie crust, making sure the pecan is evenly distributed. The pie is baked for about 30-35 minutes. (I baked mine for about 38 minutes).
Lyle's Golden Syrup - Maple Flavour, the closest that I can sub for pure maple syrup.
A slice of "Maple" Pecan Pie. I really love the buttery flaky crust. It was so flaky and buttery. The filling is a little sweet. I should have omitted the brown sugar which I wanted to omit in the beginning, but decided to follow the recipe instead. The pecans are so yummy, baked to a crispy crunch and delicious with the sticky syrup, which is a little soft and gooey.
The recipe recommends to serve this pie with whipped cream, but I think ice cream is the best!



Maple Pecan Pie
(adapted from "The Williams-Sonoma Baking Book")
makes one 9-inch (23cm) pie, or 8 servings
Flaky Pastry Dough (refer below*)
For the filling :
2 cups (22oz/690g) maple syrup
2 large eggs, lightly beaten
1/4 cup (2oz/60gm) firmly packed light or dark brown sugar
1/8 tsp salt
2 tbsp unsalted butter, melted
1 tsp pure vanilla butter
1-1/2 cups (6oz/185gm) pecans, coarsely chopped
Roll out the dough disk into a 12-inch (30-cm) round. Transfer the dough round to a 9-inch (23-cm) pie pan or dish. Trim the edge of the dough round, leaving 3/4 inch (2cm) of overhang. Fold the overhang under itself and pinch it together to create a high edge on the pan's rim. Flute the edge decoratively. Refrigerate or freeze the pie shell until firm, about 30 minutes.
Meanwhile, place an oven rack in the lower third of the oven and preheat to 375F (190C). Partially bake the pie shell ; Remove the pastry shell from the refrigerator or freezer. Line with a sheet of aluminium foil or parchment (baking) paper large enough to overhang the sides, patting the foil into the bottom and up over the sides. Cover the bottom of the shell with a generous layer of pie weights or raw short-grain rice on top of the foil. The weights help prevent the pastry from shrinking during baking. Bake for 20 minutes, then lift an edge of the foil to check the dough. If it looks wet, continue to bake, checking it every 5 minutes, until it is pale gold. The total baking time will be 25-30 minutes. Transfer to a wire rack. Reduce the oven temperature to 350F (180C).
In a saucepan, over medium-high heat, bring the maple syrup to a boil and boil for 8-10 minutes to reduce by about one-fourth. Remove from the heat and pour into a heatproof measuring pitcher. The syrup should be reduced to 1-1/2 cups (12 oz/375gm). If necessary, return the syrup to the saucepan and continue to boil until sufficiently reduced. Let cool to room temperature before proceeding.
In a bowl, stir together the eggs, brown sugar, reduced maple syrup, salt, melted butter, and vanilla until well mixed. Add the pecans and stir well. Pour into partially baked pie shell, making sure the pecans are evenly distributed.
Bake the pie until the center is slightly puffed and firm to the touch, 30-35 minutes. Transfer to a wire rack and let cool until just slightly warm, about 45 minutes. Slice into wedges and serve with the whipped cream.
*
Flaky Pastry Dough
Makes dough for one 9-inch (23-cm) single crust pie or one 10-inch (25-cm galette
1-1/4 cup (200gm) all-purpose flour
1 tbsp sugar
1/4 tsp salt
1/2 cup (125gm) cold unsalted butter
3 tbsp ice water, plus more if needed
In a bowl of a food processor, combine the flour, sugar, and salt and pulse to blend. Add the butter and pulse 5 or 6 times, until the mixture is the texture of coarse meal with butter pieces no larger than small peas. Add the 3 tbsp water through the feed tube, pulsing once after each addition and adding just enough to make a crumbly dough; it will not hold together on its own but will when gathered into a ball with your hands. If the dough is dry, mix in more water 1 tbsp at a time.
**************************
For our next Bake-Along, we will be baking based on a theme which is "Theme : French Macaron". Please do join us by baking any of your favourite French Macaron, and link your post to our linky which will start on 6th till 15th November. Everyone is welcome to join us! Only current post please.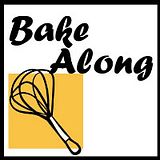 A friendly reminder when linking to our blog hop :
1. Please mention Bake-Along event in your own post linking direct to any of the hosts' post (
Joyce
,
Lena
or
Zoe
)
2.
Please link only new and current post,
PLEASE FOLLOW THE BAKE OR THEME
provided by us
.
Unrelated post will be deleted.
3. Feel free to display our Bake-Along badge in your post.
**************************
and I'm sharing this post with :
To join our blog hop, click on the link to get the codes :
get the InLinkz code