The ever popular Hokkaido Chiffon Cupcakes is back in Bake-Along #84. Zoe has selected this theme as our bake-along this week, together with Lena, myself and everyone is welcome to bake-along with us. These cupcakes was really popular among bloggers about two years ago. Most of you have probably baked them at least once! Well, as usual, I'm the last one to hop onto the wagon!
These are chiffon cakes baked in mini forms and are filled with either custard or whipping cream and decorated with fresh fruits.
The ones I made are flavoured with fresh orange juice and zest, filled with whipped cream and decorate with slices of orange.
These Orange Hokkaido Chiffon Cupcakes are so delicious. The cake is so spongy, moist, soft, fluffy and really yummy with the whipped cream. If you have not tried making Hokkaido Chiffon Cupcakes before, now is the time to try it!
Orange Hokkaido Chiffon Cupcakes
(adapted from "Let's Eat", Agnes Chang)
A
:
80gm self-raising flour, sifted
40gm caster sugar
6 egg yolks
60ml orange juice
1 tsp grated orange rind
60ml corn oil
B
:
6 egg whites
1/2 tsp cream of tartar
70gm caster sugar
Filling
:
200gm whipping cream
2 tbsp icing sugar
fresh fruits for decoration
Place all ingredients from A into a medium mixing bowl, stir in one direction till well combined.
Whisk egg whites with cream of tartar till foamy, add caster sugar gradually and whisk till stiff.
Mix 1/3 of egg white mixture into the egg yolk mixture, and mix well to combine. Slowly pour this mixture into the remaining egg white and stir lightly with a spatula till well combined.
Spoon cake batter into paper cups till 80% full. Bake in a preheated oven at 160C till cupcakes are cooked and golden brown, about 20-25 minutes. Remove and leave to cool on wire rack.
Filling : Whisk whipping cream till stiff. Put into a piping bag fitted with a round nozzle and push nozzle into the centre of the cupcake, pipe some cream into it, and over the top centre of the cupcakes.
Sprinkle cakes with icing sugar, and decorate will slices of fresh fruits.
********************************
For our next Bake-Along, we will be baking "Chocolate Raspberry Pound Cake", (from Cake Keeper Cakes, pg 78 or here). Please do join us, and link your post to our linky which will open from
20th
till 29th August.
Everyone is welcome to join us! Only current post please.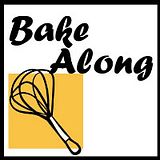 A friendly reminder when linking to our linky :
2.
Please link only new and current post,
PLEASE FOLLOW THE BAKE OR THEME
provided by us
.
Unrelated post will be deleted.
3. Feel free to display our Bake-Along badge in your post.
and I'm sharing this post with :
Cook-Your-Books #26 @ kitchen flavours