It's our Bake-Along week, and for this bake no. 53, it's my turn to select a bake and I've chosen to bake,
Brown Sugar-Raisin Bread
, together with my baking buddies,
Lena
and
Zoe
and anyone who are welcome to bake-along with us.
The full recipe makes 2 loaves, I've made half a recipe for one loaf only. And the instructions are given for the use of a stand mixer, which I have adapted for the dough to be mixed by using the bread machine instead. The liquid ingredients are placed at the bottom of the bread pan, flour is spooned over covering the liquids, salt is added to one corner of the pan, sugar to another corner, make an indentation in the centre of the flour and add in the dry active yeast. Select Basic Dough Cycle. Press Start. When machine beeps about 15 minutes later, add in the raisins gradually.
When the machine has done with the full cycle (about 1 hour 35 minutes), right up to the first rising, remove dough, roll it out to a 8 x 12 inch rectangle, scatter the mixture of cinnamon powder and brown sugar all over, leaving a 1-inch border all around. Roll up tightly, press the seams to seal, and place in a greased loaf pan, cover loosely with greased cling wrap, let rise until about 1-inch above rim of pan. Remove cling wrap and bake in a preheated oven at 180C for 35-40 minutes until golden brown. Cool completely on wire rack.
I'm sure you can imagine the aroma of the cinnamon while the bread is in the oven! Smells really good! The bread bakes up a nice golden brown.
This bread has a soft and moist texture, not the fluffy kind of soft, but with a light dense and soft texture, very nice. The raisins and the cinnamon-sugar combination makes it a lovely sweet bread, good enough eaten on it's own, it does not need anything else to go with it, but just a cup of hot black coffee or hot tea.
Brown Sugar-Raisin Bread
(adapted from "The Williams-Sonoma Baking Book")
Makes two 9-by-5inch loaves
1 tbsp active dry yeast
3 tbsp granulated sugar
1-1/4 cups (10 fl oz/310ml) warm water (105-115F/40-46C)
3 tbsp unsalted butter, melted, plus extra for greasing
1 tbsp salt
1 large egg, lightly beaten
6 to 6-1/4 cups (30-31oz/940-970gm) bread flour, plus extra as needed
3/4 cup (4-1/2 oz/140gm) golden raisins (sultanas)
3/4 cup (4-1/2 oz/140gm) dark raisins
For the filling :
2/3 cup (5oz/155gm) firmly packed light brown sugar mixed with 4-1/2 tsp ground cinnamon
In a bowl, sprinkle the yeast and a pinch of the granulated sugar over 1/2 cup (4fl oz/125ml) of the water and stir to dissolve. Let stand until foamy, about 10 minutes.
In a stand mixer fitted with the paddle attachment, combine the remaining water, the milk, melted butter, remaining granulated sugar, salt, egg and 2 cups (10 oz/315gm) of the flour. Beat on medium speed until creamy, about 1 minute. Add the yeast mixture and 1/2 cup (2-1/2 oz/75gm) of the flour and beat for 1 minute. Add the raisins, then beat in the remaining flour, 1/2 cup at a time, until the dough pulls away from the bowl sides. Switch to the dough hook. Knead on medium-low speed, adding flour 1 tbsp at a time if the dough sticks, until smooth and elastic, about 4 minutes.
Transfer the dough to a greased deep bowl and turn to coat it with the oil. Cover loosely with plastic wrap and let rise at room temperature until doubled in bulk, 1 to 1-1/2 hours.
Lightly grease the bottom and sides of two 9-by-5 inch loaf pans. Turn the dough out onto a lightly floured work surface. Divide the dough in half and roll or pat each half into an 8-by-12 inch (20 x 30-cm) rectangle. Lightly sprinkle each rectangle with half of the filling, leaving a 1-inch (2.5cm) border on all sides. Beginning at a narrow end, tightly roll up each rectangle into a compact log. Pinch the ends and the long seam to seal in the filling. Place each log, seam side down, in a prepared pan. Cover loosely with plastic wrap and let rise at room temperature until about 1 inch (2.5cm) above the rim of each pan, 1-1/2 hours.
Preheat the oven to 350F (180C). Bake until the loaves are golden brown and pull away from the pan sides, 35-40 minutes. Turn out onto racks and let cook completely.
#99/100
To join our blog hop, bake this bread and link your post to our Bake-Along linky.
For our next Bake-Along, we will be baking based on a theme, "Theme : Tuiles". You may bake any Tuiles recipe of your choice, and link your post to the our blog-hop linky which will start on 28th October right up to 6th November. Everyone is welcome!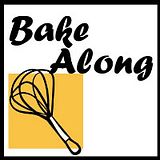 A friendly reminder when linking to our blog hop :
2. Please link only new and current post, related to the current bake or theme provided by us. Unrelated post will be deleted.
3. Feel free to display our Bake-Along badge in your post.
To join our blog hop, click on the link to get the codes :
get the InLinkz code