Bake-Along is three years old! The month of May marks the 3rd Anniversary of Bake-Along. Lena,
Zoe
and myself, are entering into our fourth year of baking together! WOW! When I've started my blog, I've never thought that I would bake together with two awesome ladies for three years and we are still going strong! Thanks to Lena and Zoe for being such wonderful baking partners, THE BEST! To all our blogger friends who has baked along with us, thank you for your support these past three years. Here's to another year of wonderful baking together! Cheers!
Our special theme for Bake-Along 3rd Anniversary is Chocolate Cake. Yum! Yum! There are lots of chocolate cakes that just calls out for a celebration, and since I am not one who is into cake decorating, I've made a simple chocolate cake with chocolate ganache filling and chocolate frosting.
Happy 3rd Anniversary, Bake-Along !!!
I've made some little changes to the recipe. I have replaced the buttermilk with milk, and have reduced the sugar to 180gm (original is 1-1/2 cups, about 300gm). The batter is baked in two 9" round cake pans, and when the cake is cooled, each cake is cut into two layers to make a total of 4 layers. However, since the cake is not really that high, I have omit this step, as I am not confident that I would cut an even layer. I spread the Chocolate Ganache on one cake and top with the second cake. And frost the cake with the Chocolate Frosting, and finish off with a sprinkling of cocoa powder over the top.
For the Chocolate Ganache, I've made only half a recipe since I only have one layer to fill. And for the Chocolate Frosting, I have used only 3 cups of icing sugar and about 1/3 cup of milk.
Cake is really moist, tender and soft. Not too sweet, just right, since I've reduced the sugar. Yummy cake! The chocolate ganache is so chocolaty good.
A slice to everyone! Cheers!
Triple Chocolate Cake
(adapted from "
Chocolate" Favourite Brand Name
)
2 cups all-purpose flour
2/3 cup unsweetened cocoa powder
2 teaspoons baking soda
(1 tsp baking soda + 1 tsp baking powder)
1/4 teaspoon salt
1-1/2 cups sugar
(only 180gm)
3/4 cup (1-1/2 sticks) butter, softened
1 egg
1 teaspoon vanilla
1 cup buttermilk
(replace with milk)
3/4 cup sour cream
Chocolate ganache filling (recipe follows)
Easy Chocolate Frosting (recipe follows)
Preheat oven to 350F. Grease and flour two 9-inch round cake pans. Combine flour, cocoa, baking soda and salt in medium bowl. Beat sugar and butter in large bowl with electric mixer at medium speed until light and fluffy. Beat in egg and vanilla until blended. Add flour mixture alternately with buttermilk and sour cream, beginning and ending with flour mixture. Beat well after each addition. Divide batter evenly between prepared pans.
Bake 30 to 35 minutes or until toothpick inserted into centers comes out clean. Cool cake layers in pans 10 minutes; remove to wire racks to cool completely. Cut each cake layer in half horizontally.
Meanwhile, prepare filling and frosting. Place one cake layer on serving plate; spread with one third of filling. Repeat layers two more times. Top with remaining cake layer. Spread frosting over cake.
Chocolate Ganache Filling :
Bring 3/4 cup whipping cream, 1 tablespoon butter and 1 tablespoon sugar to a boil; stir until sugar is dissolved. Place 1-1/2 cups semisweet chocolate chips in medium bowl; pour cream mixture over chocolate and let stand 5 minutes. Stir until smooth; let stand 15 minutes or until filling reaches desired consistency. (Filling will thicken as it cools). Makes about 1-1/2 cups.
Easy Chocolate Frosting :
Beat 1/2 cup (1 stick) softened butter in large bowl with electric mixer at medium speed until creamy. Add 4 cups
(I use 3 cups)
powdered sugar and 3/4 cup cocoa in batches alternately with 1/2 cup
(I use about 1/3 cup)
milk; beat until smooth. Stir in 1-1/2 teaspoons vanilla. Makes about 3 cups.
*************************
For our next Bake-Along, we will be baking Lemon-Scented Pull-Apart Coffee Cake from Baking For All Occasions by Flo Braker or here. Please do join us, the linky will start on 19th May until 28th May. Everyone is welcome!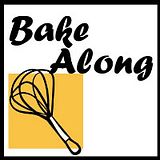 A friendly reminder when linking to our blog hop :
1. Please mention Bake-Along event in your own post linking direct to any of the hosts' post (
Joyce
,
Lena
or
Zoe
)
2.
Please link only new and current post,
related to the current bake or theme provided by us
.
Unrelated post will be deleted.
3. Feel free to display our Bake-Along badge in your post.
Join our blog hop, click on the link to get the codes :
get the InLinkz code