It's time for our Bake-Along #63. My baking buddy,
Zoe
has selected Crisp Chocolate Bites to bake together with
Lena
and myself, and anyone who wishes to bake along with us. When this cookie was selected by Zoe, I immediately thought of Christmas! And while I was baking this, the song "Rudolph The Red Nose Reindeer" kept popping into my head, and before long, I find myself singing while making these cookies! LOL!
Crisp Chocolate Bites, you'll be biting into one and reaching for the next one!
The cookie dough is really, a thick batter that needs to be refrigerated for at least an hour to firm up. It will turn into a very thick-set fudgy batter! Shape the fudgy batter into 3/4-inch balls, but I used a small ice-cream scoop to scoop the thick batter and drop the rounds into a bowl of sifted icing sugar, roll to coat it completely. Place the balls on prepared baking pans and bake for 12 minutes until the cookies puffed and cracked on top. The balls of cookie from the small ice cream scoop I used is a little bigger than the size mentioned in the book, so I got only 25 cookies (and sizes varies, some are smaller than others, guess I'm not consistent when scooping the batter!), and I baked them for 17 minutes.
The only change I did was to reduce the sugar to half for the batter, which works out just nice for me, not to sweet.
While baking in the hot oven, the cookies spread out and cracked, making nice patterns on the surface. Or maybe they cracked, due to my singing? HAHAHA!
These cookies are really crispy on the outside, with the sound of crispy crunch as you bite into it, but not all of these cookies are crispy like this. I noticed that the smaller ones are really crispy and the bigger ones are somewhat cake-like in the centre. I did not re-bake the bigger ones again, as they are good to eat too, with really crispy crunch on the outside. I'm glad I've reduced the sugar. The chocolaty, not too sweet cookies really goes well with the icing sugar that coats around it. Really nice! Eating these cookies, reminds me of eating whoopie pies, the crispy version!
Crisp Chocolate Bites
(adapted from "The Williams-Sonoma Baking Book")
Makes about 3-1/2 dozen cookies
6 tbsp (3oz/90gm) unsalted butter, cut into pieces
2 oz (60gm) unsweetened chocolate, chopped
1 cup (8oz/250gm) granulated sugar
(1/2 cup)
1 large egg
1 tsp pure vanilla extract
3/4 cup (4oz/125gm) all-purpose (plain) flour
1/4 cup (3/4oz/20gm) unsweetened Dutch-process cocoa powder
1/2 tsp baking soda (bicarbonate of soda)
1/4 tsp salt
1/2 cup (2oz/60gm) confectioners' (icing) sugar
Lightly grease 2 baking sheets or line with parchment (baking) paper. Set aside.
In a small saucepan over very low heat, combine the butter and chocolate. Heat, stirring occasionally, just until melted and smooth.
Pour the chocolate mixture in a large bowl and let cool slightly. Stir in the granulated sugar until evenly moistened. Add the egg and vanilla, beating until light and fluffy.
Sift the flour, cocoa, baking soda, and salt together onto a sheet of waxed paper. Gradually add the flour mixture to the chocolate mixture and stir to combine. Cover and refrigerate until firm, about 1 hour.
Preheat the oven to 375F (190C). Remove the cookie dough from the refrigerator. Shape the dough into 3/4-inch (2-cm) balls and roll in the confectioners' sugar to coat completely. Place the balls about 1-1/2 inches (4cm) apart on the prepared pans. Bake the cookies until puffed and cracked on top, about 12 minutes. They may appear underdone in the center but will turn crisp as they cool. Let the cookies cool on the pans on wire racks for 2-3 minutes before transferring them to the racks to cool completely.
*************************
For our next Bake-Along, our bake is "Theme : Chiffon Cake". Bake any chiffon cake and link your post to the linky which will start on 10th July until 19th July. Everyone is welcome!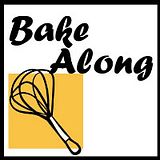 A friendly reminder when linking to our blog hop :
1. Please mention Bake-Along event in your own post linking direct to any of the hosts' post (
Joyce
,
Lena
or
Zoe
)
2.
Please link only new and current post,
PLEASE FOLLOW THE BAKE OR THEME
provided by us
.
Unrelated post will be deleted.
3. Feel free to display our Bake-Along badge in your post.
To join our blog hop, click on the link to get the codes :
get the InLinkz code