For this week's Bake-Along, with
Lena
and
Zoe
, my selected theme is "
Savoury Pie/Tart"
. If I'm given a choice to select between a slice of cake and a slice of savory pie or tart, I would reach out for the pie or tart! I'm a savoury gal!
At that time when I selected this theme for our Bake-Along, I had a recipe in mind, but the last few weeks has been kinda busy, and that recipe requires some advance preparation. So I have decided to try this easy recipe at the last minute, yes, I made this only yesterday!
One thing's for sure, I sure am glad that I've given this recipe a try. It was a hit with the family.
Since this month's Cook Like A Star featuring Paula Deen and The Deen Brothers, I decided to try this Tomato, Ham and Cheddar Pie from the book "Y'all Come Eat" by The Deen Brothers.
While the pie is cooling on the rack, the daughter says, "This looks like a pizza"! Hubby, when home from work says "You made pizza today?" Huh...!!!
This is an easy pie to make. Firstly, make the pie crust. I used the food processor to make the dough and it takes only 2-3 minutes, easy peasy! There's shortening used in the recipe, but I have omitted that, and also did not add any salt to the dough since I've used salted butter. The dough comes together pretty quickly, and I've used only about 1-1/2 tablespoons of iced water. As usual, pat the dough into a disc, cover tightly with cling wrap and refrigerate for at least an hour. I refrigerated mine for about 2-1/2 hours, meanwhile take a nap, like I did! haha!
Roll out the chilled dough into a 11-inch round, and line the dough into a 9-inch pie pan. The dough is a little soft, but with some sprinkling of flour, it helps. If there's any hole or tears, it can easily be patched up. Trim the edges, prick the base all over with a fork, and blind bake the dough by covering the dough with a large piece of foil and fill with several cups of dried beans, at 375F for 20 minutes. Remove foil and beans, bake crust for another 5-10 minutes until pale golden.
Tip : do not throw out the scraps of dough from the trimmings, reserve it to patch up some cracks or tears of the crust after baking. There's two small cracks on mine, so I've used the reserved dough to patch up the little tears, do it gently so as not to break the crispy buttery crust further.
The filling : A cup of mayonnaise is spread over the base (I've used slightly less than a cup), scatter the chopped tomatoes (drained, to rid of excess moisture), sliced ham and sliced green onions (from the garden), sprinkle with salt (which I've omitted), black pepper and paprika. Top with grated mozarella and cheddar cheese. I have forgotten to sprinkle the filling with black pepper and paprika before topping with the cheese. So I've sprinkled them over the cheese, before baking. I did not measure the amount of cheese, but simply mix about a cup of each and sprinkle them over the filling. Bake the pie for 30 minutes until the cheese has melted and beautifully golden.
Let cool slightly, cut into slices and serve with some basil leaves from the garden.
Yummilicious! The mayonnaise adds a wonderful taste to the pie, an interesting ingredient that I would never have thought to use as a base for a pie. The crust is buttery and tender, even without the shortening. With tomatoes, ham and green onions, topped with Mozarella and Cheddar cheese, and a buttery tender crust, this is one delicious pie!
(my changes listed in blue)
Tomato, Ham and Cheddar Pie
(adapted from "Y'all Come Eat", The Deen Brothers)
1 cup mayonnaise
(I've used about 2/3 cup )
1 9-inch prepared pie crust (recipe follows)
2 large tomatoes, finely chopped (about 1-1/2 cups)
(I used 2 medium, drained the chopped tomatoes)
1/2 cup thinly sliced ham
(about 3/4 cup)
3 green onions, sliced (about 1/3 cup)
(I'v used about 1/2 cup)
1/4 teaspoon salt
(omitted)
1/4 teaspoon freshly ground black pepper
pinch paprika
8 ounces fresh mozzarella, thinly sliced (about 2 cups)
}(I've used 2 cups
4 ounces cheddar cheese, shredded (about 1 cup)
} in total)
1 tablespoon chopped fresh basil leaves
Preheat the oven to 350F. Spread the mayonnaise over the bottom of the piecrust. Scatter the tomatoes, ham, and green onions over the mayonnaise. Sprinkle with salt, pepper, and paprika. Top with the cheeses.
Bake about 30 minutes or until cheese is melted and bubbling. Let stand for 5 minutes before cutting. Garnish with chopped basil.
Basic Flaky Single Piecrust
1-1/4 cups all-purpose flour
1/4 teaspoon salt
(omitted)
7 tablespoons unsalted butter, chilled and cut into pieces
2 tablespoons shortening
(omitted)
2 to 3 tablespoons ice water
(used about 1-1/2 tablespoons)
pie weights or dried beans
In a food processor or large bowl, pulse or whisk together the flour and salt. Pulse or cut in the butter and shortening until the mixture resembles coarse crumbs. Pulse or cut in enough ice water until dough just comes together (it should not be sticky).
Press the dough into a ball; using the palm of your hand, flatten it into a disk. Wrap disk tightly in plastic wrap. Chill for 1 hour or until ready to use.
Preheat oven to 375F. On a lightly floured surface, roll dough into an 11-inch circle. Line a 9-inch pie plate with dough. Prick the bottom of the piecrust all over with a fork. Trim off any excess dough and crimp the edges decoratively.
Line the bottom and sides of the piecrust with aluminium foil. Pour pie weights or several cups of dried beans into the foil, evenly distributing the weights.
Bake for 20 minutes. Remove the weights and foil. Bake for 5 to 10 minutes more or until pale golden.
*************************
For our next Bake-Along, our bake is Crisp Chocolate Bites, from The Williams-Sonoma Baking Book, pg 44 or you may get the recipe here. Bake the selected recipe and join us! The linky will start on 26th June until 5th July. Everyone is welcome!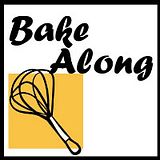 A friendly reminder when linking to our blog hop :
1. Please mention Bake-Along event in your own post linking direct to any of the hosts' post (
Joyce
,
Lena
or
Zoe
)
2.
Please link only new and current post,
PLEASE FOLLOW THE BAKE OR THEME
provided by us
.
Unrelated post will be deleted.
3. Feel free to display our Bake-Along badge in your post.
************************
To join our blog hop, click on the link to get the codes :
get the InLinkz code