It's Bake-Along week! And for this week's bake no. 67, I have selected Plum Tartlets, to bake together with my baking buddies,
Lena
and
Zoe
, and anyone who would like to join in the fun.
What drawn me to this recipe is, firstly, the plums, as I love plums. Secondly, the author of the book describes this tartlet as "The cakiest tart you'll ever eat", so I was really curious about the texture of the "tart".
Plum Tartlet
Before baking
As usual, I've reduced the sugar, by half for this recipe, and it was just right. Did not have any lemons, so I've used orange zest instead. And have replaced the turbinado sugar with demerara sugar.
These tartlets are baked in ramekin moulds. The batter is rather thick, not quite a dough, but really thick. Divide the batter into six ramekin moulds, and arrange the sliced plums over the top, pressing gently into the batter. It would be a good idea to use small plums. I used medium to large plums, and got to trim the plum slices to fit into the ramekin. Bake for about 30-35 minutes until the tartlets are puffy and golden brown.
After baking
It looks puffy and really nice, could not wait to try it!
Dust with some confectioners' sugar over the top before serving. Would love to eat it with ice cream, but did not have any!
The crumbs are really moist, buttery and a little crumbly, similar to a shortbread! I can't help thinking I'm eating a cake version of shortbread, instead of "the cakiest tart you'll ever eat"! It is really nice, and since I am a fan of shortbread, I've enjoyed this tartlet.


Plum Tartlets
(adapted from "Back In The Day Bakery Cookbook", Cheryl and Griffith Day)
2 cups unbleached all-purpose flour
1 teaspoon baking powder, preferably aluminium-free
1/2 teaspoon ground cardamon
1/4 teaspoon fine sea salt
(omitted as butter is salted)
1/2 pound (2 sticks) unsalted butter, at room temperature
2 large egg yolks
1 cup granulated sugar
(1/2 cup)
1 teaspoon pure vanilla extract
1 teaspoon grated lemon zest
(orange zest)
6 plums, pitted and sliced
1/2 cup turbinado sugar
(demerara sugar)
confectioners' sugar for dusting
ice cream for serving (optional)
Special equipment :
Six 4-inch ramekins
Position a rack in the lower third of the oven and preheat the oven to 350F. Lightly butter the ramekins and place them on a baking sheet.
In a medium mixing bowl., whisk together the flour, baking powder, cardamom, and salt; set aside.
In the bowl of a stand mixer fitted with the paddle attachment (or in a medium mixing bowl, using a handheld mixer), cream the butter on medium-high speed until pale and fluffy, about 2 minutes. Add the egg yolks, granulated sugar, vanilla, and lemon zest and continue to beat until the mixture is light in colour. Reduce the speed to low and add the flour mixture in thirds, mixing just until incorporated; be careful not to overmix.
Divide the dough evenly among the ramekins. Fan plum slices in each ramekin, lightly pressing the slices into the dough with your fingers. Sprinkle the tops with turbinado sugar.
Bake for 25 to 30 minutes, until the tartlets look set and the tops are bubbly and caramelized to a golden brown. These are best served warm, but they can be covered with plastic wrap and refrigerated for up to 3 days.
Serve the tarts with a light dusting of confectioners' sugar and a scoop of your favourite ice cream, if desired.
**************************
For our next Bake-Along, it will be a theme bake, Theme : Popovers. Bake any recipe of your choice and link your Popovers post with our linky which will start on 15th September till 24th September. Everyone is welcome!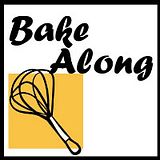 A friendly reminder when linking to our blog hop :
1. Please mention Bake-Along event in your own post linking direct to any of the hosts' post (
Joyce
,
Lena
or
Zoe
)
2.
Please link only new and current post,
PLEASE FOLLOW THE BAKE OR THEME
provided by us
.
Unrelated post will be deleted.
3. Feel free to display our Bake-Along badge in your post.
**************************
and I'm sharing this post with :
Little Thumbs Up event organized by Zoe of Bake For Happy Kids, Doreen of My Little Favourite D.I.Y, and hosted by Diana of The Domestic Goddess Wannabe
To join our blog hop, click on the link to get the codes :
get the InLinkz code