This week's Bake-Along #81, I have chosen to bake Bacon Cheddar Scones, from Bouchon Bakery cookbook, together with Lena and Zoe. Bouchon Bakery cookbook is one gorgeous book! It is huge and heavy, and I've got to clear my messy table each time when I want to browse thru this book, it needs the space! A little bulky to lay open on the kitchen counter while trying out a recipe, but that being said, it is worth every space it occupy on my bookshelf.
According to the author, this savoury scone is their most popular scones at their bakery. I'm not surprised! There's cheese, bacon, cream and chives! What's not to love when they come together in one delicious savoury breakfast treat? Wish I could try them (and other goodies) from the bakery itself, well, maybe one day in the future!
These scones are pretty simple and easy to make, though a little advance planning is necessary. The dough is made the day before, shaped into scones, freeze and bake the following day. There's really not much work to it at all. The only "extra work" is the frying of the bacon and chopped them to pieces. I've used streaky bacon and fresh chives from my garden pot. The rest of the work is making the dough which is pretty easy, as it is done in the stand mixer.
I've made my own creme fraiche, as I do not want to buy a pack for such a small amount needed. It is really easy to make at home. Here's how I make my own creme fraiche : To make 1 cup of creme fraiche, combine 1 cup of heavy cream with 1 tablespoon of yoghurt (I used my own homemade yoghurt, you can use buttermilk too). Stir to combine, cover tightly and let sit undisturbed at room temperature for at least 8 hours or until set. It can keep for about a week in the refrigerator.
The scone recipe used only 89gm (1/4 cup + 2-1/2 tablespoons) of creme fraiche, so I have placed a teaspoon of yoghurt in a cup, add heavy cream to make 89gm, stir and let sit for 8 hours. Once it has thickened and set, place in the refrigerator if not used immediately.
Once the dough is done, it is shaped into a 7-by-9-inch block, wrapped in plastic wrap and place in the fridge for about 2 hours until firm. The dough block is then cut in half lengthways and each half is cut into 6 rectangles. Place them on a baking sheet, spaced them apart, and place the baking sheet in the freezer overnight, until the scones are frozen solid. These frozen scones can remain frozen for about 1 month. (I love this, so convenient!).
On baking day, preheat the oven, place the frozen scone on parchment lined baking sheet, spacing them 1 inch apart, brush the top with cream, sprinkle some grated Cheddar cheese, and black pepper. Bake as directed, until golden brown.
Freshly baked scones. Smell incredibly delicious while baking!
Looks yummy!
These scones are delicious! Enjoy them while just barely warm, the cheddar cheese has formed a lovely crispy crust, and the insides are moist, tender, buttery and so, so tasty! Bacon, cheese, cream and chives, what's not to love? I baked only six and I have another 6 frozen scones in my freezer, which will be gone real soon! Love that these scones can be frozen ahead and can be baked anytime I want while still frozen solid. Make the full recipe and keep some in the freezer, great for lazy mornings. Just bake what you need, and you will have a delicious breakfast to enjoy with a cup of coffee. Perfect start to a busy day.
Bacon Cheddar Scones
(adapted from "Bouchon Bakery", Thomas Keller and Sebastien Rouxel)
107gm (3/4 cup + 1 teasoop) all-purpose flour
196gm (1-1/2 cup + 1/2 tablespoon) cake flour
8.1gm (1-1/2 + 1/8 tsp) baking powder
1.6gm (3/8 teaspoon) baking soda
27gm (2 tablespoon + 3/4 teaspoon) granulated sugar
3.6gm (1-1/4 teaspoon) kosher salt
132gm (4.7 ounces) cold unsalted butter, cut into 1/4-inch pieces
71gm (1/4 cup + 1 tablespoon) heavy cream, plus additional for brushing
89gm (1/4 cup + 2-1/2 tablespoons) creme fraiche
340gm (12 ounces) Hobbs applewood smoked bacon, cooked, drained, and cut into 1/8-inch pieces (77gm cooked weight)
144gm (2 cups) grated white cheddar cheese
36gm (1/2 cup) grated white cheddar cheese (for sprinkling before baking)
10gm (1/4 cup) minced chives
freshly ground black pepper
Place the all-purpose flour in the bowl of a stand mixer fitted with the paddle attachment. Sift in the cake flour, baking powder, baking soda, and sugar and mix on the lowest setting for about 15 seconds to combine. Add the salt and mix to combine. Stop the mixer, add the butter, and, on the lowest setting (to keep the flour from flying out of the bowl), pulse to begin incorporating the butter. Increase the speed to low and mix for about 3 minutes to break up the butter and incorporate it the dry mixture. If any large pieces of butter remain, stop the mixer, break them up by hand, and mix until just incorporated.
With the mixer running, slowly pour in the cream. Add the creme fraiche and mix on low speed for about 30 seconds, until all of the dry ingredients are moistened and the dough comes together around the paddle. Scrape down the sides and bottom of the bowl and paddle and pulse again to combine. Add the bacon, the 144 grams/2 cups cheese, and the chives and pulse to incorporate.
Mound the dough on the work surface and, using the heel of your hand or a pastry scraper, push it together. Place the dough between two pieces of plastic wrap and, using your hands, press it into a 7-by-9-inch block, smoothing the top. Press the sides of your hands against the sides of the dough to straighten them. Wrap the dough in plastic wrap and refrigerate for about 2 hours, until firm.
Line a sheet pan with a Silpat or parchment paper. Cut the block of dough lengthwise in half and then cut each half crosswise into 6 rectangles (70gm each). Arrange them on the prepared sheet pan, leaving space between them. Cover with plastic wrap and freeze until frozen solid, at least 2 hours, but preferably overnight. (The scones can remain in the freezer for up to 1 month).
Preheat the oven to 325F (convection) or 350F (standard). Line a sheet pan with a Silpat or parchment paper.
Arrange the frozen scones 1 inch apart on the sheet pan. Brush the tops with cream and sprinkle with the remaining 36 grams (1/2 cup) cheese and black pepper. Bake for 24 to 27 minutes in a convection oven, 33 to 36 minutes in a standard oven, until golden brown. Set the sheet on a cooling rack and cool completely.
The scones are best the day they are baked, but they can be stored in a covered container for 1 day.
********************************
For our next Bake-Along, we will be baking "Theme : Lemon Bars". Please do join us, bake any lemon bars recipe and link your post to our linky which will open from
9th
till 18th July
. Everyone is welcome to join us! Only current post please.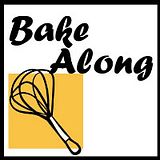 A friendly reminder when linking to our blog hop :
2.
Please link only new and current post,
PLEASE FOLLOW THE BAKE OR THEME
provided by us
.
Unrelated post will be deleted.
3. Feel free to display our Bake-Along badge in your post.