It's time for Bake-Along #82, and the theme selected by me is "Lemon Bars". I love lemon bars, and I've selected this theme to bake together with
Lena
and
Zoe
. Everyone is welcome to join us!
These lemon bars are just so addictive! I have made them many times, but have never posted it in my blog before.
These squares are so easy to make, and even easier to finish! Either squares or bars, they are the same. Cut into squares, they are called lemon squares, cut into rectangles, they are called lemon bars. The base is a shortbread crust, which is tender and buttery. The topping is tangy lemon curd. Some recipes call for the lemon curd to be cooked before spreading onto the lightly baked crust and baked till done. But this recipe is easier. The ingredients for the topping is mixed in a bowl, and then pour over the crust, baked till the topping is just set. Really easy!
Cut into squares or bars, whichever your prefer. Sprinkle some powdered sugar over the squares just before serving.
These are so addictive! Really difficult to stop at just two pieces! The first time I made this, I followed the exact measurement in the recipe, and find that the topping is really sour. Lemons that are sold here are very sour, unlike the Meyer lemons which has a sweeter taste. I have not tasted Meyer lemons before, have read about it though, and would love to get my hands on some, but have not seen them before. However, the author has made a note for "a less pucker-up lemon flavour", to decrease the lemon juice to 1/3 cup and the flour to 2 tablespoons. I followed this less pucker-up measurements, and the result is one outstanding delicious square, and I have made these delicious squares many times now. Try it yourself, be warned, they are rather addictive!
note : my changes listed in blue
Lemony Lemon Squares
(adapted from "Bake Something Great", Jill Snider)
Preheat oven to 350F (180C)
8-inch square cake pan, greased
Crust :
1 cup all-purpose flour
1/4 cup granulated sugar
(less 1 tablespoon)
1/2 cup cold butter, cubed
(100gm)
Topping :
3 eggs
1 cup granulated sugar
(scant 3/4 cup)
3 tbsp all-purpose flour
(2 tbsp)
2 tsp grated lemon zest
1/2 cup freshly squeezed lemon juice
(1/3 cup)
For the crust : In a bowl, combine flour and sugar. Using a pastry blender, 2 knives or your fingers, cut in butter until mixture resembles coarse crumbs. Press evenly into prepared pan. Bake in preheated oven until lightly browned around the edges, 12 to 15 minutes.
For the topping : In a bowl, whisk eggs, sugar, flour, lemon zest and juice just until smooth. Don't overbeat. Pour over crust.
Return to oven and bake just until set, 25 to 30 minutes. Let cool completely in pan on rack. Cut into squares.
********************************
For our next Bake-Along, we will be baking "Devil's Food Cupcake", (from Bon Appetit Desserts Cookbook, pg 129 or here). Please do join us, and link your post to our linky which will open from
23rd July
till 1st August.
Everyone is welcome to join us! Only current post please.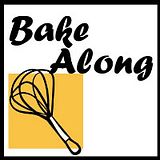 A friendly reminder when linking to our linky :
2.
Please link only new and current post,
PLEASE FOLLOW THE BAKE OR THEME
provided by us
.
Unrelated post will be deleted.
3. Feel free to display our Bake-Along badge in your post.
and I'm sharing this post with :
Cook-Your-Books #25 @ kitchen flavours