It's Bake-Along #90, and the bake for this week is Ruby Jewel Cookies, selected by
Zoe,
to bake along together with
Lena
and myself. Everyone is welcome to join our Bake-Along.
These cookies are very easy to make. The dough is very similar to sweet pastry dough. It is made in the food processor and takes only a couple of minutes to come together. The dough is refrigerated for about 1 hour to chill (though I refrigerated mine for two days!). Shape the dough into small balls, about 3/4-inch sized. I've used mini muffins pans which I've lined with cute little muffin cases. Drop the round balls into the muffin cases in the pan, then using the end of a wooden spoon, make an indentation in the centre of each cookie. Fill it up with some jam. I've used a small plastic bag, fill one corner with a few tablespoons of jam, cut a small opening at the corner, and pipe the jam into the cookies.
I've made only half a recipe, and yield exactly 30 mini cookies. The only changes I've made to the dough is to use only 40gm of sugar for the dough. And the sweetness of the cookies turns out just right for us.
I baked these cookies for exactly 18 minutes until the edges are golden. Allow them to cool in pans on wire racks.

Dust with confectioners' sugar before serving. The cookies are tender, buttery and tasted really nice with the black cherry jam that I've used. If you have an opened jar of jam in the refrigerator that is begging to be used, it would be a great idea to make these cookies.


We love these Ruby Jewel Cookies. Pretty and cute to look at, fun and delightful to eat! It is quite difficult to stop at just one! Yums!
** for half a recipe, my measurements are listed in blue
Ruby Jewel Cookies
(adapted from "The Williams-Sonoma Baking Book")
Makes about 5 dozen cookies
(Yield 30 cookies for half a recipe)
2 large egg yolks
(1 large)
1 tsp pure vanilla extract
(1/2 tsp)
2-1/4 cups (11-1/2oz/360gm) all-purpose (plain) flour
(180gm)
2/3 cup (5oz/155gm) granulated sugar
(40gm)
1 cup (8oz/250gm) cold unsalted butter, cut into small pieces
(125gm)
about 1/3 cup (3-1/2oz/105gm) seedless raspberry jam or other thick jam
(about 1/4 cup)
confectioners' (icing) sugar for dusting
Preheat the oven to 350F (180C). Have ready 2 ungreased baking sheets or miniature muffin pans and, if desired, about 5 dozen miniature paper muffin liners.
In a small bowl, whisk together the egg yolks and vanilla ; set aside.
In a food processor, combine the flour and granulated sugar. Process briefly to blend. With the machine running, add the butter 2 or 3 pieces at a time and process until the mixture looks crumbly. With the machine still running, add the egg yolk mixture and process until blended and the dough begins to pull away from the sides of the bowl.
Turn the dough out onto a sheet of plastic wrap and shape it into a flat disk. Wrap and refrigerate until chilled, about 1 hour.
With lightly floured hands, shape the dough into 3/4-inch (2-cm) balls. Place each ball in a paper liner, if using. Place the cookies 1 inch (2.5cm) apart on the baking sheets or in the muffin pans.
Using the end of a wooden spoon handle dipped in flour to prevent sticking, make an indentation in the center of each cookie, but do not press all the way through the dough. Using a spoon or a pastry bag fitted with a plain tip, fill each indentation with about 1/4 tsp jam.
Bake the cookies until the edges are golden, 15-20 minutes. Let the cookies cool on the pans on wire racks. (If baking on sheets without paper liners, use a thin spatula to loosen the cookies carefully while the are still warm). Transfer the cooled cookies to wire racks and, using a fine mesh sieve, dust with confectioners' sugar.
********************************
For our next Bake-Along, we will be baking Theme : Strawberry Shortcakes. You may bake any Strawberry Shortcakes recipe and link your post to our linky which will open from 21st to 20th January.
Everyone is welcome to join us! Only current posts please.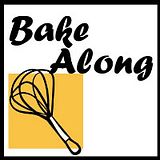 A friendly reminder when linking to our linky :
2.
Please link only new and current post,
PLEASE FOLLOW THE BAKE OR THEME
provided by us
.
Unrelated post will be deleted.
3. Feel free to display our Bake-Along badge in your post.