This week's Bake-Along #91 theme is Strawberry Shortcake. Selected by
Zoe
to bake together with
Lena
, myself and everyone is invited to bake-along with us.
I have so many Strawberry Shortcake from my many baking cookbooks. There's recipes that uses sponge cakes and others that uses a buttery dough as the cake base, with the same filling, strawberries and whipped cream. After going through a few recipes, I've decided on this simple one, though the recipe from Flour Bakery Cookbook sounds good, with balsamic strawberries. I might just make that one of these days.
The shortcake base is pretty easy to make, it is similar to making scones. I've made them into squares though the photo in the book is actually lovely rounds. I was lazy to use a round cookie cutter and by cutting them in squares, I do not have to re-roll the scraps. Yup, I can get pretty lazy at times! As for the strawberries, I've added 1 tablespoon of kirsch which gives a lovely fragrant aroma.
The shortcakes are buttery and tender. Lovely when sandwiched with the filling of the fragrant boozy strawberries and the lightly sweetened whipped cream. I drizzled some lovely juice, (there's a lot of juice!), from the macerated strawberries onto the plate, and the shortcakes soaks the juices up pretty quick. These Strawberry Shortcakes makes a lovely dessert treat.
Strawberry Shortcakes
(adapted from WillIiams-Sonoma's Dessert Of The Day", Kim Laidlaw)
Serves 6
For The Shortcakes
2 cups (10 oz/315gm) all-purpose flour
1 tbsp baking powder
1/2 tsp kosher salt
2 tbsp sugar, plus more for sprinkling
1 tsp finely grated lemon zest
6 tbsp (3 oz/90gm) cold unsalted butter, cut into small pieces
1 cup (8fl oz/250ml) heavy cream, plus more for brushing
2 pt (1 lb/500gm) strawberries, hulled and sliced or halved
1/4 cup (2oz/60gm) sugar
(2 tbsp)
1 tbsp kirsch (my addition)
Whipped Cream
1 cup (8 fl oz/250ml) heavy cream
2 tbsp sugar
(I use icing sugar)
1/2 tsp pure vanilla extract
In a bowl, using an electric mixer fitted with the whisk attachment, whip the cream, sugar and vanilla on medium speed until medium peaks form. Use right away or cover with plastic wrap and refrigerate until ready to use, up to 4 hours. Whisk the cream briefly before using.
To make the shortcakes, preheat the oven to 400F (200C). In a bowl, whisk together the flour, baking powder, salt, sugar and lemon zest until well blended. Using a pastry blender or 2 knives, cut in the butter until the pieces are about the size of peas. Add the cream and gently toss with a fork until the flour is just moistened and the ingredients are blended. Turn the dough out onto a lightly floured work surface. Gently press into a thick rectangle about 6 by 4 inches (15 x 10cm). Trim the edges even, then cut the dough into 6 equal squares.
Place the shortcakes on an ungreased baking sheet, spacing them well apart. Brush each with a little cream, then sprinkle with sugar. Bake until puffed and golden, 15-18 minutes. Transfer to a wire rack to cool slightly.
Meanwhile, in a bowl, toss together the strawberries and sugar with a fork, lightly crushing some of the berries. Let stand until ready to serve.
Split the shortcakes in half horizontally and place the bottom halves, cut side up, on plates. Spoon some of the strawberries, including the juices, over each half and top with a dollop of whipped cream. Top with the remaining shortcake halves, cut side down, and serve.
********************************
For our next Bake-Along, we will be baking Chocolate Chip Cookies, recipe from Bake In The Day Bakery Cookbook, pg 172, or here. Link your post to our linky which will open from 25th February to 5th March.
Everyone is welcome to join us! Only current posts please.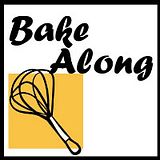 A friendly reminder when linking to our linky :
2.
Please link only new and current post,
PLEASE FOLLOW THE BAKE OR THEME
provided by us
.
Unrelated post will be deleted.
3. Feel free to display our Bake-Along badge in your post.