This week at Bake-Along, I've selected to bake Dark-Cherry Chocolate Muffins, together with
Lena
and
Zoe
.
According to the book, "the muffins have an excellent crusty exterior, so you will want to butter the muffin cups rather than use paper liners. which may come away with the crust." So I baked the muffins without using any paper liners. I did not use any nuts in the batter, but have placed one walnut on top of 6 muffins before baking.
These muffins do have a crusty exterior when freshly baked, and they rise really well. The crumbs are soft, though they are not what I expected them to be. I wished that they are a little more moist and more chocolaty in taste. But that being said, they are quite nice to eat with a glass of cold milk.
I love eating the plump moist dried cherries!
Dried-Cherry Chocolate Muffins
(adapted from "Williams-Sonoma : Essentials of Baking")
2 oz (60gm) unsweetened chocolate, chopped
1-3/4 cups (9oz/280gm) all-purpose (plain) flour
1 teaspoon baking soda (bicarbonate of soda)
1/4 teaspoon salt
1/2 cup (4oz/125gm) unsalted butter, at room temperature
1 cup (7oz/220gm) firmly packed golden brown sugar
(I've used 170gm)
1 large egg
1 teaspoon vanilla extract (essence)
1 cup (8 fl oz/250ml) buttermilk
3/4 cup (2oz/60gm) dried cherries
1/2 cup (2oz/60gm) toasted, skinned, and chopped hazelnuts
Position a rack in the middle of the oven, and preheat to 375F (190C). Butter 12 standard muffin-pan cups.
Place the chocolate in the top of a double boiler placed over (not touching) barely simmering water. Heat, stirring often, until the chocolate melts. Remove it from over the water and set aside to cool slightly. In a bowl, stir together the flour, baking soda, and salt. Set aside.
In a large bowl, beat the butter on low speed until creamy. Gradually beat in the brown sugar until dissolved. Beat in the egg, vanilla, and chocolate. Add the dry ingredients in 3 batches alternately with the buttermilk and mix on low speed just until smooth.
Fold in the cherries and nuts. Spoon the batter into the prepared muffin cups, filling each cup about three-fourths full. Bake until a toothpick inserted into the center of a muffin comes out clean, 20-25 minutes. Let cool in the pan on a wire rack for 2 minutes, then turn out onto the rack. Serve warm. Store in an airtight container at room temperature for up to 2 days.
*******************************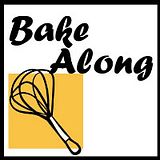 We are not using the linky thumbnails, if you have baked the muffins above, leave a comment and we shall mention you with a link to your blog post. Thank you!