Bake-Along #42, Deep Chocolate Pound Cake, is chosen by
Zoe from Bake For Happy Kids
. Zoe will be posting her bake sometime next week, so be sure to stop by Zoe's, when she comes back.
This is a simple cake, a slice or two is great for afternoon tea-time snack.
Baked in a loaf pan, with the signature crack on top, of a pound cake.
The few changes I made was, to substitute the sour cream with homemade yoghurt, used coffee chips instead of chocolate chips, and reduced the sugar slightly to 1/2 cup, since the cake contains honey as well. The changes worked out well, with a light coffee fragrance, and the sweetness is just right. But as with previous cakes baked with honey, I find the honey a little too strong, maybe because I do not really like honey in cakes.
The texture is moist and soft with tender crumbs, and would be even better if the chocolate taste is more intense, but overall, this is a nice and simple chocolate cake.
A slice or two is great with a cup of hot black coffee.
Our next bake is based on a theme, Theme : Tres Leches Cake. The linky will start on 22nd April right up to 1st May. Do join us, everyone's welcome.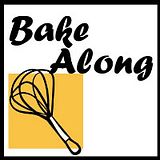 A friendly reminder when linking to our blog hop :
1. Please mention Bake-Along event in your own post linking direct to any of the hosts' post (
Joyce
,
Lena
or
Zoe
)
2. Please link only new and current post, related to the current bake or theme provided by us. Unrelated post will be deleted.
3. Feel free to display our Bake-Along badge in your post.
Deep Chocolate Pound Cake
(source from :
Bon Appetit Dessert Cookbook, Barbara Fairchild)
2-1/4 cup unbleached all-purpose flour
1 teaspoon baking powder
3/4 teaspoon coarse kosher salt
1/4 teaspoon baking soda
1/2 cup sour cream
(I use homemade yoghurt)
1/4 cup natural unsweetened cocoa powder
1/4 cup honey
2 tablespoons boiling water
3/4 cup sugar
(I use 1/2 cup)
1/2 cup (1 stick) unsalted butter, room temperature
2 large eggs
1 teaspoon vanilla extract
1/2 cup mini semisweet chocolate chips
Position rack in center of oven, preheat to 350F. Butter and flour 9x5x3-inch metal loaf pan; tap out excess flour.
Whisk flour, baking powder, coarse salt, and baking soda in medium bowl. Whisk sour cream and milk in small bowl.
Sift cocoa into another small bowl. Whisk in honey and 2 tablespoons boiling water until smooth. Cool completely.
Using electric mixer, beat sugar and butter in another medium bowl until light and fluffy, about 3 minutes. Beat in eggs 1 at a time, occasionally scraping down sides of bowl. Beat in vanilla. Add cooled cocoa mixture; stir until smooth, occasionally scrapping down bowl. Beat in flour mixture alternately with sour cream mixture in 2 additions each until just blended. Stir in chocolate chips.
Transfer batter to prepared pan; smooth top. Bake until tester inserted into center comes out clean, about 1 hour 8 minutes. Remove cake from pan and cool.
To join our blog hop : click on the link below
get the InLinkz code