It's Bake-Along time, and for this week, my baking buddy,
Lena from Frozen Wings
has selected a theme bake, Hokkaido Milk Bread, which we are baking together with
Zoe from Bake For Happy Kids
. I'm so glad that this theme was chosen as this has been on my list of to-try for ages. Completely forgotten about it, as there are just too many bakes that I want to try. Surprisingly, there are not many recipes of this bread on-line. Most of the recipes posted are taken from the same source. I supposed these recipes are the basic ones that you could work on to make filled breads or buns.
I've used the recipe from
Christine's Recipes
, which she has adapted from another source, and gives a nice soft and fluffy bread.
The secret of the soft and fluffy bread is the tangzhong starter. Water and flour are cooked until slightly thickened, best at 65C, I followed Christine's method of stirring until you notice some lines appear in the mixture for every stir you make with the spoon. Let cool to room temperature and can be used straight away for making bread or keep covered in the refrigerator for a few days (up to three days).
I've used the bread machine to do the kneading, just as Christine had done, remove the dough at the end of the Dough cycle, divide the dough into two halves, and each half into three portions, and shaped as per instructions. The dough was really soft but not sticky, similar to the dough of a brioche.
The bread bakes up nice and soft. During the making of the bread, I realised that this is actually similar to the one that I've made,
here,
from Alex Goh's recipe, where he has used Flour Gelatinised method, where the flour is mixed with boiling water, stir vigorously to a paste and left in the refrigerator for a minimum of 12 hours before use. I can't help comparing, and find that the one from Alex Goh's recipe using Flour Gelatinised method, makes a softer and moister bread, and keep soft for days. I much prefer the gelatinised method (and easier too!), to this tangzhong (water roux) method. But I'm really glad that I've given this tangzhong method a try, as it does makes a soft bread.
Overall, using Tangzhong Method does gives a soft and very nice bread, very good with a generous spread of salted butter or cream cheese spread. It stays soft on the next 2 days too.
Since I did not make any changes to the recipe, to get the full recipe for this bread and steps for making the tangzhong, please get it from
Christine's Recipes
.
To join our blog hop, bake any Hokkaido Milk Bread and link your post to our Bake-Along linky.
For our next Bake-Along, we will be baking Brown Sugar-Raisin Bread, from The Williams-Sonoma Baking Book, pg 288 or here.

Link your post to the our blog-hop linky which will start on 8th October right up to 17th October. Everyone is welcome!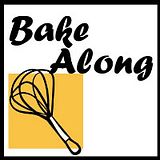 A friendly reminder when linking to our blog hop :
2. Please link only new and current post, related to the current bake or theme provided by us. Unrelated post will be deleted.
3. Feel free to display our Bake-Along badge in your post.
To join our blog hop, click on the link to get the codes :
get the InLinkz code