We had a fantastic
"Chiffon Marathon"
on our last Bake-Along! Thank you everyone, for your overwhelming response. All of you are just so creative, baking the usual chiffon cakes with unique and delicious flavours combinations, some of them are really new to me, and the chiffon cakes made into layer cakes are just so beautifully done! Clearly, you are a group of talented bakers! There are recipes that I have bookmarked to try, one of it, is the ever so popular Hokkaido Chiffon Cupcakes, and me being the slow-coach to jump into the wagon, will bake it, eventually!
Today's Bake-Along #65 was selected by
Lena
to bake together with
Zoe
and everyone is welcome to join us. If you are hesitating whether to bake this cake, hesitate no more, bake it! This cake is really moist, chocolaty and so good.
No one would not know that there are zucchini in the cake, except the baker, of course! And your kids would be happily gobbling down this chocolate cake, without their knowing that there is some veggie in it. This cake is baked in a bundt pan, and my photos taken on day 1, before the cake was sliced, are missing from my camera, oops!! So, these photos were taken on the next day when there are some slices left.
As usual, I have reduced the granulated sugar to only half for full recipe, and brown sugar to 3/4 cup, loosely packed. I have omitted the sliced almonds as my family are not in favour of nuts in cakes. I have replaced the sour cream with homemade yoghurt. You would need about 1 medium zucchini to get 2 cups of grated zucchini. And one of the ingredients is espresso powder, which adds a lovely fragrant and delicious flavour with the cocoa powder.
A really chocolaty, moist and delicious cake. I'm glad I've reduced the sugar amount, as the sweetness turns out just right. My son brought 5 slices to school to share with his best buddies, and they loved it, came back with an empty container and a request to make this cake again. This is a keeper recipe. Thanks Lena, for a delicious selection!
** note : my changes listed in blue
Chocolate-Zucchini Bundt Cake
(adapted from "Cake Keeper Cakes", Lauren Chattman)
Serves 10 to 12
1/2 cup unsweetened Dutch process cocoa powder plus more for dusting the pan
1/2 cup sour cream
(homemade yoghurt)
3 large eggs
2 teaspoons pure vanilla extract
2-1/2 cups unbleached all-purpose flour
2-1/2 teaspoons baking powder
1-1/2 teaspoons baking soda
1 teaspoon salt
2 teaspoons instant espresso powder
3/4 cup (1-1/2 sticks) butter, softened
1 cup granulated sugar
(1/2 cup)
1 cup packed light brown sugar
(3/4 cup, loosely packed)
2 cups coarsely shredded zucchini
1 cup semisweet chocolate chips
1 cup sliced almonds
(omitted)
Preheat the oven to 350F. Grease a 12-cup Bundt pan and dust with unsweetened cocoa powder.
Whisk together the sour cream, eggs, and vanilla in a large glass measuring cup. Whisk together the flour, 1/2 cup cocoa powder, baking powder, baking soda, salt, and espresso powder in a medium bowl.
Combine the butter and sugars in a large mixing bowl and cream with an electric mixer on medium-high speed until fluffy, about 3 minutes, scraping down the sides of the bowl once or twice as necessary.
With the mixer on low speed, add 1/3 of the flour mixture and beat until incorporated. Add 1/2 of the sour cream mixture. Repeat, alternating flour and sour cream mixtures and ending with the flour mixture, scraping down the sides of the bowl between additions.Stir in the zucchini, chocolate chips, and nuts.
Scrape the batter into the prepared pan. Bake until a toothpick inserted in the center comes out clean, 45 to 50 minutes. Let cool in the pan for 10 minutes, then invert it onto a wire rack to cool completely. Slice and serve.
Store uneaten cake in a cake keeper or wrap in plastic and store at room temperature for up to 3 days.
**************************
For our next Bake-Along, our bake is based on a theme which is Theme : Baked Pasta. Bake any pasta recipe and join us! The linky will start on 7th July until 16th August. Everyone is welcome!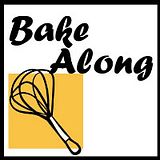 A friendly reminder when linking to our blog hop :
1. Please mention Bake-Along event in your own post linking direct to any of the hosts' post (
Joyce
,
Lena
or
Zoe
)
2.
Please link only new and current post,
PLEASE FOLLOW THE BAKE OR THEME
provided by us
.
Unrelated post will be deleted.
3. Feel free to display our Bake-Along badge in your post.
and I'm sharing this post with :
To join our blog hop, click on the link to get the codes:
get the InLinkz code