Happy New Year everyone! Here's wishing a year of good health, happiness, love, and stay safe wherever you may be. May the year 2015 be the best one yet!
"Happy, Healthy"
, the theme for this week at
I Heart Cooking Clubs (IHCC)
. We are cooking with Diana Henry and this week's theme is to cook "those good for you dishes that tasted great and make your belly happy".
My belly is certainly "burp-ily" happy after I had a bowl of this simple and delicious stew! It is light with lots of leek, celery and potatoes, and garnished with more parsley.
Diana Henry's recipe uses beef on the bone, but I have used pork stewing meat instead. I've used double the amount of celery. The leeks from my garden pot are of medium-sized ones, so I have used about 5. Henry has indicated that the soup needs the large amount of potatoes, as some would be broken up and others left as chunks in the stew. She's right, the broken up potatoes add a "richness" to a light soupy stew.
A simple easy stew to cook, with lots of veggies and potatoes, which are certainly healthy and yummy.


This is a simple and delicious bowl of stew. A bowl of this stew when served hot, with a generous sprinkling of black pepper and garnished with lots of parsley, would certainly make any belly happy!
Granny Miller's Beef, Potato and Parsley Stew
(adapted from : "Food From Plenty", Diana Henry)
Serves 6
1kg (2lb 4oz) shin of beef on the bone
(I use pork stewing meat)
900gm (2lb) Maris Piper potatoes, halved or quartered, depending on size
2 celery sticks (and any celery leaves you have), roughly chopped
2 leeks, diced
salt and pepper
40gm (1-1/2 oz) parsley, roughly chopped
Put the beef into a big saucepan (big enough to hold all the vegetables later) and add enough cold water to cover. Bring to the boil, then reduce the heat and simmer steadily for 1-1/2 hours, or until the beef is falling off the bone. Skim from time to time. Lift the meat from its cooking liquid and leave to cool.

(I boiled the pork stewing meat for about 45 minutes, did not remove it from the pot. Add the potatoes, and continue to cook as in step 2).

Add the potatoes to the beef stock and cook for about 30 minutes, until they start to break up (you should have a mixture of potato chunks and a soupy potato puree). Now add the celery and leeks and season really well. (There is so much potato in this it needs it). Simmer for a further 15 minutes.
When the beef is cool enough to handle, remove it from the bones, discarding any fatty bits and sinew, I find using my hands is the easiest way. The meat should be in bite-sized chunks, but it doesn't have to be exact. Stir the beef into the stew with the parsley and heat it through. Check the seasoning and serve the stew in flat soup plates.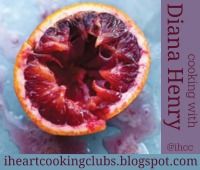 and