"Along The Spice Trail"
, the theme for this week at
I Heart Cooking Clubs (IHCC).
I love cooking with spices. For this week's time, I've made Diana Henry's, Spiced Meatballs In Tomato Sauce, served over spaghetti.
Simmer the meatballs in the prepared sauce. Smells nice!
What I like about this sauce is, it is really easy peasy. There's no browning of the onions and no dishes to wash! Simply chop the onions and garlic, and dump them straight into the stewing pot along with the other ingredients for the sauce ; canned tomatoes, oregano, tomato puree, light brown sugar, salt and pepper and olive oil. Let the sauce comes to a boil, then reduce heat and simmer until slightly thickened, about 30 minutes, stirring from time to time. My family love more sauce for their pasta, so I have used three cans of tomato instead of two. I did not have any canned cherry tomatoes, so I have used one can of chopped tomatoes and two cans of plum tomatoes which I crushed before cooking. And did not have fresh oregano leaves (my plant died!), so I've used a tablespoon of dried oregano.
While the sauce is simmering, prepare the meatballs, as per instructions in the recipe. I've used ground pork instead of beef. Ingredients for the meatballs ; onion, garlic, red chilli, ground cinnamon, ground nutmeg, ground mixed spice, chopped coriander (did not have any parsley). Season well. Fry a small chunk to test on the seasoning. Form the meat into meatballs, then browned them in a little oil. Remove and put them into the sauce, and continue to simmer for another 15 minutes until the meatballs are cooked through. Check on the seasoning, I added another tablespoon of brown sugar to balance off the flavours. Serve over spaghetti.
Spaghetti with Spiced Meaballs in Tomato Sauce, delicious!
The meatballs uses quite a fair amount of cinnamon and ground mixed spice. I have however used ground nutmeg instead of grated. At first I thought that the spices would be too strong, but they balances off really deliciously with the meat. Stir through the spaghetti with the sauce, top with more sauce and some meatballs, sprinkle with chopped coriander, and enjoy!
Spiced Meatballs in Tomato Sauce
(adapted from "Food From Plenty", Diana Henry)
Serves 6
For the sauce :
2 x 400 cans tomatoes (ideally cherry) in thick juice
(I've used one can of chopped tomatoes and two cans of plum tomatoes which I've crushed before cooking)
1 onion, finely chopped
2 garlic cloves, crushed
leaves from 4 oregano sprigs
(dried oregano)
1/2 tbsp tomato puree
(use 3 tbsps tomato puree)
3 tbsp olive oil
1 tbsp soft light brown sugar
salt and pepper
For the meatballs :
3 tbsp olive oil
1 onion, finely chopped
4 garlic cloves, crushed
1 red chilli, deseeded and chopped
900gm (2lb) minced beef
1 tbsp ground cinnamon
1 tsp freshly grated nutmeg
2 tsp ground mixed spice
3 tbsp finely chopped parsley
First make the sauce. Put all the ingredients into a saucepan (no need to brown anything) and bring to the boil. Reduce to a simmer and leave to cook for 30 minutes, the sauce will thicken and the tomatoes collapse. Stir from time to time, adding a little water if needed. Taste and adjust the seasoning.
For the meatballs, put 1 tbsp of the oil into a pan and cook the onion until soft and pale gold. Add the garlic and chilli and cook for another minute and a half. Put this into a bowl with the beef, spices and parsley. Season really well. Pull off a little chunk and fry in some oil. Eat. This helps you decide whether you need more seasoning or spices. Form the beef into meatballs using wet hands.
Heat the remaining oil in a frying pan and brown the meatballs in batches. You don't need to cook them through; just colour the outside. Once they are done, tip in the tomato sauce and stir gently. Cook for 10-15 minutes.
Serve with pasta (penne or spaghetti are both good; you'll need 100gm/3-1/2oz per person). Stir it with the sauce and meatballs in a large heated shallow bowl and serve.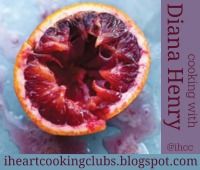 and