This week at Bake-Along, it's time for Chocolate Chip Cookies from Bake In The Day Bakery, selected by
Lena.
I've read some really good reviews on this cookies when I googled for it, that I was looking forward to bake them. Are these cookies that good? Even the author of the book mentioned that "Cookie most likely to cause a riot if we run out"! Back In The Day Bakery is a bakery situated in Savannah, USA. Would love to visit the bakery one day!
There's two cups of sugar in the dough, one cup of white sugar, and one cup of brown sugar. I could never bring myself to use these amounts of sugar! I've reduced it to 1/4 cup of each, knowing very well that, these amount would bring just the right sweetness, as I have baked similar recipes to this, always with a lesser amount of sugar than the recipe calls for. I have used salted butter, thus have omitted the salt. Instead of chocolate chunks, I have used chocolate chips. Did not have Fleur de sel, It was suggested to use a big ice cream scoop to measure the dough before baking. I made the first tray (6 cookies) and they are really huge! So for the rest of the dough, I skipped the ice cream scoop, and use about 2 tablespoons of dough for each cookie. I've baked the cookies about 20 minutes, until golden brown around the edges.
These cookies are very nice. Best eaten when they have just cooled or barely warm, when the edges are crispy and the center are a little chewy. These are good on the first day, though they lost some of that crispiness on the next day, but still tastes nice. I'm so glad I reduced the sugar, as the sweetness is just right. Delicious when eating while slightly warm and crispy with a glass of cold milk!
Chocolate Chip Cookies
(Bake In The Day Bakery Cookbook, by Cheryl and Griffith Day, or
here
)
Makes 24 cookies
2-1/2 cups unbleached all-purpose flour
1-1/4 teaspoons baking soda
1-1/4 teaspoons fine sea salt
(omitted)
1/2 pound (2 sticks) unsalted butter, at room temperature
(salted butter)
1 teaspoon pure vanilla extract
1 cup granulated sugar
(1/4 cup)
1 cup packed light brown sugar
(1/4 cup)
2 large eggs, at room temperature
2 cups semisweet chocolate chunks
Fleur de sel for sprinkling
Position a rack in the lower third of the oven and preheat the oven to 350°F. Line two cookie sheets with parchment.
Sift together the flour, baking soda, and sea salt; set aside.
In the bowl of a stand mixer fitted with the paddle attachment (or in a large mixing bowl, using a handheld mixer), cream together the butter, vanilla, and both sugars on medium speed until light and fluffy, 3 to 5 minutes.
Add the eggs and mix for no more than 1 minute; the eggs will not be fully incorporated. Turn the speed down to low and add the dry ingredients in thirds, beating until just combined, 1 to 2 minutes. With the mixer running, sprinkle in the chocolate chunks, beating until just combined, about 1 minute.
Use a large ice cream scoop or a ¼-cup measuring cup to form the cookies and place on the prepared cookie sheets, leaving 2 inches between the cookies to allow for spreading. Lightly tap each cookie with the palm of your hand and sprinkle the cookies with fleur de sel.
Bake the cookies, one sheet at a time, for 15 to 18 minutes, rotating the pan halfway through the baking time for even doneness. The cookies should be golden brown around the edges but still light in the centers. Let the cookies cool on a wire rack. Store the cookies in an airtight container for up to 3 days at room temperature.
TIP: If you can't buy your milk in glass bottles anymore, sterilize old milk bottles and creamers and store them in the fridge, then pour your milk into the chilled bottles for serving. Milk tastes so much better served from a glass container!
********************************
For our next Bake-Along, we will be baking Theme : Bake/Roast Chicken (Part/Whole). Link your post to our linky which will open from 22nd to 31st March.
Everyone is welcome to join us! Only current posts please.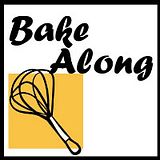 A friendly reminder when linking to our linky :
2.
Please link only new and current post,
PLEASE FOLLOW THE BAKE OR THEME
provided by us
.
Unrelated post will be deleted.
3. Feel free to display our Bake-Along badge in your post.