Bake-Along #77 theme bake is
Theme : Viennese Shortbread
, selected by
Zoe
to bake together with
Lena
, myself and everyone is welcome to bake-along with us.
Viennese Shortbread sometimes are called as Viennese Fingers, Viennese Biscuits and Viennese Cookies, and they are tender, buttery shortbread that can be sandwiched with butter cream, jam or dipped in melted chocolate. Or have them plain, like I did, my favourite way of eating them.
These are really easy to make. The soft batter is made up of butter, flour, confectioner's sugar, baking powder and vanilla extract, which is then stuffed into a cookie press, (I use a piping bag and a star nozzle), and pipe into strips about 2-3 inches long on a non-greased baking sheet. Bake as directed in the recipe, though mine took about 12 minutes as I baked them a little longer than the recipe states as I want them a little more crispy.
Using a star nozzle makes very pretty fingers, but after baking.....
....they seem to flatten a little! I was prepared for this actually, as the batter was quite soft. Not very "pretty" after baking!
When the fingers have cooled off completely, dip the ends with melted chocolate. Originally this recipe comes with a butter cream filling, which I have skipped. My daughter love having these Viennese Fingers with the ends dipped in melted chocolate.
As for me, I prefer them plain. These are so yummy, even though they are a little flat! When I make this again the next time, I would make them as rounds, at least they would look like cookies! I used salted butter, so these fingers has a salty buttery taste, tender with a light crisp. Wonderful with a cup of tea for a tea-time treat. And I had it the next morning with a mug of hot black coffee.
Viennese Fingers
(adapted from "Bake Something Great", Jill Snider)
makes about 3-1/2 dozen cookies
Preheat oven to 375F (190C)
Cookie press with 1/2-inch (1cm) star-shaped nozzle
Cookie sheet, ungreased
2 cups all-purpose flour
1/4 tsp baking powder
1 cup butter, softened
1/2 cup confectioners' sugar, sifted
1/2 tsp vanilla
On a waxed sheet of paper or in a bowl, combine flour and baking powder. Set aside.
In a large bowl, using an eletric mixer on medium, speed, beat butter, confectioners' sugar and vanilla until light and creamy, about 3 minutes. On low speed, gradually add flour mixture, beating until smooth. (The dough should be slightly soft so it can be pushed through a cookie press easily. If it is too stiff to press easily, mix in another tablespoon of softened butter. If it is too soft, add a little flour).
Pack dough into fitted cookie press and press into strips about 1-1/2 inches (4cm) long, about 1 inch (2.5cm) apart on cookie sheet. Bake in preheated oven for 5 to 7 minutes or until starting top brown around edges. Cool for 5 minutes on sheet, then transfer to a rack and cool completely.
********************************
For our next Bake-Along, we will be baking based on a theme; "Theme - Bake-Along 4th Anniversary Theme : Cheesecake". Please do join us, bake any Cheesecake recipe, and link your post to our linky which will start on 7th May till 16thMay. Everyone is welcome to join us! Only current post please.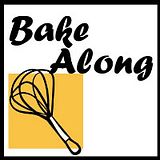 A friendly reminder when linking to our blog hop :
1. Please mention Bake-Along event in your own post linking direct to any of the hosts' post (
Joyce
,
Lena
or
Zoe
)
2.
Please link only new and current post,
PLEASE FOLLOW THE BAKE OR THEME
provided by us
.
Unrelated post will be deleted.
3. Feel free to display our Bake-Along badge in your post.
Click on the link to get the codes:
get the InLinkz code