It's Bake-Along #93, and the selected theme by
Lena
is
Baked/Roast Chicken
. I've made one of Nigella Lawson's chicken traybake recipe today for dinner (talking about last minute!). I was planning on making this traybake more than a week ago, but I was down with fever for a few days. And it took me almost a whole week to recover, what with our current heat wave which we are experiencing right now, is not helping much at all. I wish I have a swimming pool at home where I can cool off the whole day! The family has been eating takeaways for almost a week, because the cook in the house is out of action! LOL! But it rained today! Yay! What a welcome relief!
According to Nigella, this traybake, "It is "Italian" - in it's flavourings - the rosemary and lemon that waft gorgeously through the house as you cook - and in deference to the Italian sausages I use in it."
And she is right - about the delicious aroma! I popped the tray into the oven, (my daughter helped me watch over it while I went to fetch my son from school), and just as I reached home about an hour later, I can already smell the delicious lemony-rosemary aroma right at my front door! Made our tummies growl!
I've used 6 chicken thighs and two drumsticks, 4 Italian sausages and Russet potatoes which I've peeled and cut into quarters. Fresh rosemary from my garden pot, and zest of one lemon. Put everything in a shallow baking tray, season with salt and pepper, with a drizzling of olive oil. Bake at 220C for 50-60 minutes. I baked them at 200C (I was going out), and when I came back about an hour later, I increased the temperature to 220C, move the tray up a rack in the oven, and baked them for another 15 minutes to brown the chicken and the potatoes.
These are so delicious! The chicken thigh has crispy skin with moist tender meat. And the Italian sausages, well, what can I say about the sausages! Next time, I will add a couple more Italian sausages to the tray! As for the potatoes, Nigella has this to say "What I need to tell you most urgently though is that the potatoes chunks soak up the meaty, lemony juices as they cook. So set your mind not to expect crunchy roast potatoes, but rather soft-soused chunks, scorched crisp at the corners." There was quite an amount of the tasty juices in the tray, perfect to drizzle over the chicken thighs during serving. With this traybake, I am reminded once again, how much I love all of Nigella's roast/bake chicken recipes, at least the ones that I've tried!
Italian Traybake
(from "Nigellissima", by Nigella Lawson)
Serves 4-6
3 baking potatoes (approx 750gm total), unpeeled and cut into 2cm chunks
8 chicken thighs, bone in and skin on
8 Italian sausages (approx 750gm total)
small bunch (6 or 7 sprigs) fresh rosemary
zest of 1 unwaxed lemon
1 teaspoon sea salt flakes or 1/2 teaspoon pouring salt
ground pepper
4x15ml tablespoons olive oil
Preheat the oven to 220C/Gas Mark 7.
Put the potatoes into a large, shallow baking tray and add the chicken thighs and sausages. If using 2 trays, divide everything between them (and also swap the trays over and turn them round halfway through cooking time).
Arrange about 4 sprigs of the rosemary among the chicken and sausages, then finely chop the needles of another 2 sprigs, to give you about 2 teaspoons of finely chopped needles, and sprinkle these onto the chicken pieces.
Zest the lemon over everything, and season with the salt and a good grinding of pepper. Drizzle with the oil and bake for 50-60 minutes, or until the chicken skin and sausages are golden and the potato pieces are cooked through. It's fine to let all of this stand for up to 30 minutes once cooked, prior to serving.
********************************
For our next Bake-Along, we will be baking Dried-Cherry Chocolate Muffins
(Williams-Sonoma : Essential of Baking, pg 78, or
here
)
. L

ink your post to our linky which will open from 21st to 30th April.
Everyone is welcome to join us! Only current posts please.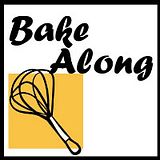 A friendly reminder when linking to our linky :
2.
Please link only new and current post,
PLEASE FOLLOW THE BAKE OR THEME
provided by us
.
Unrelated post will be deleted.
3. Feel free to display our Bake-Along badge in your post.
March 2016 IHCC Potluck