This may be a day late, but here's my wish to all you lovely mothers
Interesting theme for our Bake-Along No. 24 - Bake With Four Ingredients, chosen by
Zoe
. I'm really curious to see what everyone else is baking for this Bake-Along. I have a couple of recipes that uses four ingredients that I wanted to try. Well I did try out one, they ended up in the rubbish bin, I overbaked them and they burnt! Haha! So without much time and did not want to try that again, I sourced for other recipe that I can make in a jiffy! I was always ready with all my bake-alongs and other bakes, sometimes even weeks earlier, but not this time, I only made this on Saturday, kept it in the fridge and was away for an overnight trip. Came back late evening today (Sunday) and quickly took some photos.
A really easy and quick tart to make with only four ingredients. The coconut crust at the sides are supposed to be puffy and loose, I guess I pressed them a little too much while covering the sides with aluminium foil before baking. The crust are chewy with the coconuts and I find that it is a little dry, perhaps the next time I'll add more butter and process the chewy coconut just a little so that they are smaller in pieces.
The chocolate filling is delicious, well, what can you expect with chocolate and cream mixture! Overall, this is a lovely tart, albeit on the slight dry crust, but that is easily adjusted with a little more butter. I will be making this again, with adjustment, it is actually yummy! Some toasted walnuts at the bottom of the chocolate filling would be delicious!
I only made half the recipe, and it makes quite a lot of crust. I used two small 6" tart pans, one with crust at the sides, and enough for one more 6" pan with crust only at the bottom.
Our next Bake-Along : Bake-Along No. 25 (29 May)
It's our Bake-Along 1st Anniversary! Yup, Bake-Along has been going on for a year now, so the three of us thought that it would be fun and wonderful to bake something special just to celebrate our 1st year at Bake-Along! We have decided on baking "layer cake"! Come and celebrate with us, bake any layer cake, join our blog-hop on 29th May for "Bake-Along 1st Anniversary Layer Cake"!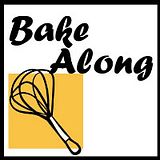 Crisp Coconut and Chocolate Pie
(source from : Martha Stewarts's New Pies and Tarts)
Makes : One 9-inch Pie
For The Crust :
4 tablespoons unsalted butter, softened
11 ounces (about 6 cups) sweetened shredded coconut
For The Filling
:
1-1/4 cups heavy cream
8 ounces bittersweet chocolate (preferably 61 percent cacao), finely chopped
Make the crust : Preheat the oven to 350F. In a food processor, process butter and one-third of coconut until mixture forms a ball, 1 to 2 minutes. Transfer to a medium bowl. Sprinkle remaining two-thirds coconut over mixture, and combine with your fingers.

Place a 9-inch pie plate on a parchment-lined rimmed baking sheet. Press coconut mixture into bottom and up sides of pan to form crust, leaving top edges loose and fluffy. Place a foil ring over edge to prevent burning. Bake until center begins to brown, 10 to 15 minutes; remove foil, and bake until edges are browned, 4 to 6 minutes more. Transfer crust to a wire rack to cool completely.

Make the filling : Bring cream just to a boil in a small saucepan, pour over chocolate in a medium heatproof bowl. Let sit 10 minutes, then stir until chocolate is completely melted and mixture is

combined. Pour into coconut crust. Refrigerate until filling is set, 1 hour or up to 1 day.
Join our blog hop, click on the link below :
get the InLinkz code