Simple and easy sausage rolls, lovely for tea time snack, using only 4 ingredients. I actually made this a couple of months ago, came across these photos as I was deleting some of my old unwanted photos from my laptop, and I realised that this would be great for our Bake-Along theme : Bake with Four Ingredients.
Here I have used store-bought frozen puff pastry, Kawanku brand and I used black pepper sausage (Ayamas).


Cut the sausage into half. Place one piece of sausage half on a piece of square puff pastry, pipe some mayonnaise and yellow mustard over the sausage. Wrap it up and bake until golden brown.
Serve with your favourite chili or tomato sauce. Lovely with a cup of tea for snacking.
Our next Bake-Along : Bake-Along No. 25 (29 May)
It's our Bake-Along 1st Anniversary! Yup, Bake-Along has been going on for a year now, so the three of us thought that it would be fun and wonderful to bake something special just to celebrate our 1st year at Bake-Along! We have decided on baking "layer cake"! Come and celebrate with us, bake any layer cake, join our blog-hop on 29th May for "Bake-Along 1st Anniversary Layer Cake"!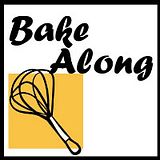 Easy Sausage Roll
Puff pastry (4" square)
black pepper sausage, cut into 2-1/2 inches length
mayonnaise
yellow mustard
Position a piece of puff pastry, with the corner facing you, like a square diamond shape.

Place a piece of sausage in the center, pipe some mayonnaise and yellow mustard over sausage.

Wrap it up from the bottom, sides and roll.

Bake in a preheated oven at 180C for about 20 minutes or until golden brown and crispy.
Join our blog hop, click on the link below :
get the InLinkz code