It's time for our Bake-Along! For our 23rd Bake-Along,
Zoe
has chosen this cake, Honey and Walnut Cake from Cake Keeper Cakes. When this cake was chosen, I was rather sceptical about this cake, not for any reason except that it has honey as one of its "star" ingredient. Not that I do not like honey, I love honey when drizzled over hot buttered waffles, when drizzled over pancakes, ice creams and when mixed with yoghurt over fruit salad and also when used as a glaze over barbecue chicken! But I have never like honey when it is used in baked cakes, weird isn't it? I wonder if there is anyone out there who feels the same way!
This cake uses walnuts that are toasted and then process until finely ground. I use the dry mill blender to ground the walnuts, and I was pretty sure it would end up pasty! As from my experience with peanuts, I need lots of flour to mill the peanuts so that they do not end up pasty, and according to the book, only 1 tablespoon of sugar is added to the walnuts. I went ahead anyway. True enough, the walnuts, are getting pasty and wet! I ended up using the rest of the flour, mixed with the walnuts and continue to mill them till finely ground. Even then, the walnuts looks lumpy like coarse crumbs in pastry-making. I wonder if using a food processor, would it turn out differently? I have not seen ground walnuts being sold before and thought of substituting with ground hazelnuts, which are easily available, but decided to have a go with the walnuts instead.
I use my fingers to separate the lumpy ground walnuts the best I could. I carry on with the rest of the instructions and when the walnuts was added into the batter, it was all lumpy! Gosh! Lumpy batter! So I increase the mixer speed to high and beat for 30 seconds longer. Viola! the batter is now smooth! But I was concerned whether the high speed in beating would actually affect the rising of the cake, as the instructions says to mix in the flour just until incorporated, but I'm glad that in the end it turns out well!
This cake is just as Lauren Chattman says in her book, "This is a delicious, moist, rich cake with the beautiful fragrance of honey". It is true, but she has missed three more words when describing this cake, "soft, buttery and tender"!
My overall rating : A lovely cake! But one I would personally not make for myself, simply because I still could not get used to the honey in baked cakes. There's nothing wrong with the cake, it is wonderful! I only ate half a piece to try, and find that I still do not like honey in baked cakes! I know, it's weird, but don't let that stop you from trying this out. It's a lovely cake!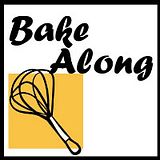 Please visit
Lena
and
Zoe
and other friends who has baked along with us in the linky below. And to know what's in store for our Upcoming Bake-Along, please refer to the details below :
Bake-Along No. 24 (14 May)
We will be baking based on a theme,
"Baking With Four Ingredients"
. Does this sounds challenging? Go on, start sourcing for recipes and join us on
14/05
. It would indeed be interesting to see what everyone's four-ingredients bake will be!
Bake-Along No. 25 (29 May)
It's our Bake-Along 1st Anniversary! Yup, Bake-Along has been going on for a year now, so the three of us thought that it would be fun and wonderful to bake something special just to celebrate our 1st year at Bake-Along! We have decided on baking "layer cake"! Come and celebrate with us, bake any layer cake, join our blog-hop on
29th May for "Bake-Along 1st Anniversary Layer Cake"!
Honey and Walnut Cake
(adapted from "Cake Keeper Cakes" by Lauren Chattman)
1-1/2 cups walnut pieces
1/3 cup sugar
(
I use 1/4 cup)
1 cup unbleached all-purpose flour
1-1/2 teaspoons baking powder
1/4 teaspoon salt
3/4 cup (1-1/2 sticks) unsalted butter, softened
6 tablespoons honey
3 large eggs
1 teaspoon grated lemon zest
1/2 teaspoon pure vanilla extract
confectioners' sugar
Preheat the oven to 350F. Grease a 9-inch round cake pan. Line the bottom of the pan with a circle of parchment paper. Grease the parchment. Dust the pan sides and parchment with flour. Spread the walnuts in a single layer on a baking sheet and toast until fragrant, 8 to 10 minutes. Let cool completely.

Combine the cooled walnuts and 1 tablespoon of sugar in the bowl of a food processor and process until the nuts are finely ground. Add the flour, baking powder, and salt and pulse to combine.

Add the butter, honey, and remaining sugar to a large mixing bowl and beat on medium-high speed until smooth, about 2 minutes, scraping down the sides of the bowl once or twice as necessary. Beat in the eggs, one at a time, scraping down the sides of the bowl after each addition. Beat in the zest and vanilla. Add the nut and flour mixture, 1/2 cup at a time, and mix until just incorporated.

Scrape the batter into the prepared pan and smooth with a spatula. Bake until a toothpick inserted into the center of the cake comes out dry, 35 to 40 minutes. If the cake starts to brown too much around the edges, loosely tent it with foil after about 25 minutes.

Let the cake cool in the pan for 10 minutes, invert it onto a wire rack, and then turn it right side up again to cool completely. Dust heavily with confectioners' sugar before cutting into wedges and serving.

Store uneaten cake in a cake keeper or wrap in plastic and store at room temperature for up to 3 days.
Join our blog hop, get the codes here :
get the InLinkz code