Our first Bake-Along for 2013 kick-off with
Lena's
selection, Cold Oven Cream Cheese Pound Cake. This cake is different from other pound cakes; the batter is baked in a cold oven instead of preheating the oven before baking. According to Lauren Chattman, baking this cake in a cold oven gives it time to rise to great heights while developing a beautiful golden-brown crust.
I made the full recipe as I was rather curious about the "great heights" in a bundt pan! This is a rich pound cake, using 250gm of cream cheese and 250gm of butter! And a very interesting ingredient, it contains grated fresh ginger. Since I harvested my homegrown ginger a couple of days before from my
garden
, I was happy to use some of it for my bake!
Some changes I made was, by reducing the sugar, from the original 2-1/2 cups to only 1 cup! Even with this drastic amount of reduction, you would not miss all that sugar, and it was just right! I always wonder why most recipes requires very high amount of sugar in the first place. Maybe it is all about baking science, but even with the lesser amount, the ones that I've baked always turned out fine for me. Can you imagine, 2-1/2 cups of sugar is half kilogram! You definitely do not need that much of sugar!
When the batter was poured into the bundt pan, the amount was rather huge, it almost reached the top of my bundt pan, maybe 1/2" almost to the top, and I was worried that it might overflow during baking, since the recipe says it will bake to "great heights"! I decided to take the chance and go ahead with the baking. Luckily it turned out fine. The cake rose nicely and the colour of the crust, like what Lauren Chattman says, a beautiful golden brown.
The cake has a very moist, soft texture. Since there are grated ginger used for this cake, you can get some gingery taste in some bites, though it is not overpowering at all, very nice actually. And with most pound cakes, I find the flavour improves and tastes much better overnight. Overall, a very nice cake.
Please visit my baking buddies,
Lena from Frozen Wings
and
Zoe from Bake For Happy Kids
, and all our friends who has baked along with us in the linky below :
For the next bake, we will be baking based on a theme,
"Theme : Souffles"
. The linky will start on
30th January right up to 8th February
. Do join us, everyone's welcome.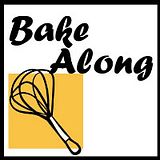 A friendly reminder when linking to our blog hop :
1. Please mention Bake-Along event in your own post linking direct to any of the hosts' post (
Joyce
,
Lena
or
Zoe
)
2. Please link only new and current post, related to the current bake or theme provided by us. Unrelated post will be deleted.
3. Feel free to display our Bake-Along badge in your post.
Cold Oven Cream Cheese Pound Cake
(adapted from "Cake Keeper Cakes" by Lauren Chattman)
3 cups cake flour
1-1/2 teaspoons baking powder
1 teaspoon salt
1 cup (2 sticks) unsalted butter, softened
8 ounces cream cheese, softened
2-1/2 cups sugar
(I use only 1 cup)
6 eggs, room temperature
1 tablespoon pure vanilla extract
1-1/2 tablespoons grated fresh ginger
1 tablespoon grated lemon zest
Adjust the oven rack to the lower-middle position. Grease a 12-cup Bundt pan and dust with flour. Combine the flour, baking powder, and salt in a medium mixing bowl.
Combine the butter, cream cheese, and sugar in a large mixing bowl and cream with an electric mixer on medium-high speed until fluffy, about 3 minutes, scraping down the sides of the bowl if necessary.
With the mixer on medium speed, add the eggs, one at a time, scraping down the sides of the bowl after each addition. Beat in the vanilla, ginger, and lemon zest.
Turn the mixer to low speed and add the flour mixture, 1/2 cup at a time, scraping down the sides of the bowl after each addition. After the last addition, mix for 30 seconds on medium speed.
Place the cake in a cold oven. Turn the oven to 325F and bake, without opening the oven door, until the cake is golden brown and a toothpick inserted in the center comes out clean, 65 to 80 minutes.
Cool the cake in pan for 15 minutes. then invert it onto rack. Cool completely before slicing and serving.
Store uneaten cake in a cake keeper or wrap in plastic and store at room temperature for up to 3 days.
#5/100
Join our blog hop, click on the link to get the codes :
get the InLinkz code