It's my turn to select for our Bake-Along, and I've chosen Banana Nut Bread. I thought that we could do with something simple and nice, and this looks very simple. This is not actually a bread, to me the texture is somewhere between a bread and a cake. It certainly does not have the texture of a bread, so I guess it is closer to a cake, but again, this is much denser than a regular cake.
Looks like a loaf cake to me, by the crack on the crust, like most loaf cakes has. Whatever it is, this is quite nice. I made a couple of changes to the recipe as follows :
Firstly, as usual, I reduced the sugar, from original 250gm to 170gm. For me, I could further reduce the sugar by perhaps another 30gm or so.
Next, I substituted the buttermilk with a mixture of homemade yoghurt and milk.
I noticed that the measurement for the flour in cups and grams are very confusing. In the recipe, it was written as 2 cups is 315gm, whereby the standard measurement for 1 cup of flour is anywhere between 113gm to 140gm, but I have always used 125gm for a cup of all-purpose flour. So here, I have used 250gm and not 315gm as stated in the recipe.
I have reduced the bicarbonate of soda by half.
I've added 1/3 cup of golden raisins as I love raisins in banana cakes. I was planning to soak the raisins in some rum, but have completely forgotten about it.
I've added 1 tsp of vanilla extract.
It smells lovely while it was baking in the oven. The texture is dense, soft and moist. Chunks of sweet smelling banana is scatttered throughout the cake, with the nutty walnuts and flavour from the golden raisins makes a very nice combo.
I had a slice for breakfast the next day, and the flavour has further improved, as it tasted much better.
A thick slice with a cup of warm tea, would keep you energized for your busy mornings!
Our next bake will be based on a theme, Theme : Turnovers. You may bake any sweet or savoury turnovers, your pick! The linky will start on 20th March right up to 29th March. Do join us, everyone's welcome.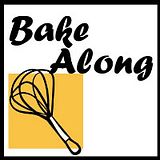 A friendly reminder when linking to our blog hop :
1. Please mention Bake-Along event in your own post linking direct to any of the hosts' post (
Joyce
,
Lena
or
Zoe
)
2. Please link only new and current post, related to the current bake or theme provided by us. Unrelated post will be deleted.
3. Feel free to display our Bake-Along badge in your post.
Banana Nut Bread
(adapted from "The Williams-Sonoma Baking Book")
Makes one 9 by 5-inch loaf
6 tbsp (90gm) unsalted butter, at room temperature
1 cup (250gm) sugar
(I use 170gm)
2 or 3 very ripe bananas, coarsely mashed (about 1-1/2 cups / 280gm)
3 large eggs, lightly beaten
1/2 cup buttermilk
(I use a mixture of yoghurt and milk)
2 cups (315gm) all-purpose flour
(I use 250gm)
1 tsp baking soda
(I use 1/2 tsp)
1 tsp baking powder
1 tsp ground nutmeg
1/2 tsp salt
3/4 cup (90gm) coarsely chopped walnuts, pecans, or hazelnuts
(I use walnuts)
1/3 cup golden raisins (my addition)
1 tsp vanilla extract (my addition)
Preheat the oven to 350F (180C). Grease and lightly flour a 9-by-5-inch loaf pan.
In a stand mixer fitted with the paddle attachment, beat together the butter and sugar on medium speed until creamy, about 1 minute. Add the bananas and eggs

(and vanilla extract, if using)

and beat until smooth. Add the buttermilk and beat just until combined.
In a bowl, stir together the flour, baking soda, baking powder, nutmeg, salt and nuts

(and raisins, if using)

. Add the flour mixture to the banana mixture and beat just until combined. The batter should be slightly lumpy. Scrape down the sides of the bowl.
Pour the batter into the prepared pan. It should be no more than two-thirds full. Bake until the top is dark golden brown and dry to the touch and the edges pull away from the pan sides, about 55-60 minutes. A cake tester inserted into the center should come out clean. Let the bread cool in the pan for 5 minutes, then turn it out onto a wire rack and let cool completely. Cut into thick slices to serve.
Storage tip : Wrap the bread tightly in plastic wrap and store at room temperature overnight or in the refrigerator for up to 5 days.
Join our blog hop, click on the link below to get the codes :
get the InLinkz code