It's back to my turn at selecting a theme for our Bake-Along #41. And I've chosen Turnovers. I love turnovers, sweet or savoury, I like them both. Turnovers are great for breakfast, lunch and lovely for tea-time snack. I'm sharing today, a lovely Spiced Apple Turnovers, made with flaky shortcrust pastry and filling of spiced apples with rum. Sounds good? It is good!
The original recipe is from Bon Appetit Desserts Cookbook, a giant of a book! I have tried quite a number of recipes from this big and heavy book, and not one that has failed me yet! This recipe uses shortcrust pasty that is buttery, tender and crispy. I have doubled the amount of the pastry, divide them into two equal size, refrigerate them and to simplify the rolling, I have rolled each piece into a 10" square and cut into 4 pieces of 5" squares each instead of rounds.
Make the shortcrust pastry as per the recipe instructions below. Our weather is extremely hot and humid, temperature for the day was 33C when I made this. The shortcrust pastry was getting soft real quick. As soon as I've rolled them out and cut to 5" squares after the first refrigeration, it was difficult to fold over as it was getting very soft and fragile. Looks like I need to refrigerate them again. Since I can't remove the pastry to a baking sheet without breaking them, I placed the Pastry Mat with the rolled and cut-out pastry squares over a cookie sheet (see photo 1) and refrigerate for about 20 minutes for the pastry to firm up.
It definitely helps. As soon as I've taken the cookie sheet out, I transferred the Pastry Mat over the working surface and quickly began to place the apple filling and fold them over. I've got to work very quickly because they are beginning to soften once again real fast!
Seal the edges, gently press the sides with a fork, make three cuts on the top of pastry and brush with lightly beaten egg all over.
Here I have added some almond flakes and sprinkle with some granulated sugar.
Bake at 400F for about 25-30 minutes until brown all over.
See the one on the top left? It has an odd shape because the pastry was getting very soft and I have difficulty in transferring the soft pastry to the baking tray. Two are without any nuts or sugar, for my daughter, as she does not really like nuts.
Overall review : The shortcrust pastry is very tender, buttery and crispy. The filling is delicious, the apples mixed with the lovely spices, orange zest, lemon zest and rum is so good. Original recipe uses brandy, but I have used rum as I love apples with rum. I am very glad that I have added the flaked almonds with the sprinkling of granulated sugar over the top, really yummy. Since the filling is not too sweet, it balances off very nicely indeed.
Delicious when eaten warm. There were two leftovers and the next morning, I simply wrap them up in an aluminium foil, and reheat them for 10 minutes.
Our next bake is
Deep Chocolate Pound Cake,
from Bon Appetiti Desserts Cookbook, page 44 or
here
. The linky will start on
4th April right up to 13th April
. Do join us, everyone's welcome.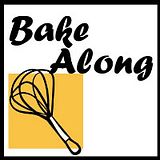 A friendly reminder when linking to our blog hop :
1. Please mention Bake-Along event in your own post linking direct to any of the hosts' post (
Joyce
,
Lena
or
Zoe
)
2. Please link only new and current post, related to the current bake or theme provided by us. Unrelated post will be deleted.
3. Feel free to display our Bake-Along badge in your post.
Spiced Apple Turnovers
(source from : "Bon Appetit Desserts Cookbook", Barbara Fairchild)
Pastry
(I doubled the amount, and got 8 turnovers)
1-1/2 cups unbleached all purpose flour
1 teaspoon sugar
1/4 teaspoon salt
1/2 cup (1 stick) chilled unsalted butter, cut into 1/2-inch cubes
4 tablespoons (or more) ice water
Filling
1-1/2 pounds Golden Delicious apples, peeled, cored, cut into 1/2-inch pieces
1/3 cup sugar
2 tablespoons (packed) dried currants
1 teaspoon brandy (I used 1 tablespoon rum)
1/2 teaspoon ground cinnamon
1/2 teaspoon vanilla extract
1/4 teaspoon finely grated lemon peel
1/4 teaspoon finely grated orange peel
1/4 teaspoon ground nutmeg
1/8 teaspoon ground cloves
6 tablespoons plus 2 tablespoons unsalted butter
additional sugar
flaked almonds (my addition)
For the Pastry :
Whisk flour, sugar, and salt in large bowl. Add butter and rub in with fingertips until mixture resembles coarse meal. Add 4 tablespoons ice water; using fork, stir until small moist clumps form, adding more ice water by teaspoonfuls if dough is dry. Transfer dough to floured surface, divide into 6 equal pieces. Form each piece into ball; flatten each into disk. Wrap separately in plastic and chill 1 hour.
(I doubled the recipe for the pastry, do the mixing in the food processor, separate into two equal portions, wrap each separately with plastic wrap, and chill)
Do Ahead : Can be made 1 day ahead. Keep chilled. Let stand at room temperature 10 minutes to soften slightly before rolling out.
Line 2 heavy large baking sheets with parchment paper. Roll out each dough disk on floured work surface to 8-inch round. Transfer rounds to prepared baking sheets. Cover and refrigerate 30 minutes.
(I rolled each piece of dough into 10" square and cut each rolled dough into 4 pieces of 5" squares).
Filling :
Mix apples, sugar, currant, brandy, cinnamon, vanilla, lemon peel, orange peel, nutmeg and cloves in a large bowl. Cover and let stand 30 minutes to blend flavours.
(I used rum instead of brandy)
Preheat oven to 400F. Spoon 1/2 cup apple mixture onto bottom half of 1 pastry round, leaving 3/4-inch plain border around edges. Dot filling with 1 teaspoon butter. Lightly brush edges with water. Fold top half of dough over filling to enclose completely. Gently press edges together to seal. Lightly brush edge with more water and fold edge inward. Using fork, gently press edge to seal. Repeat with remaining pastry rounds, filling, and butter.
(Mine was rectangle as the I've used the cut-sized pastry of 5" square).
Melt remaining 2 tablespoons butter in small saucepan. Using small sharp knife, cut 3 slits in top of each turnover to allow steam to escape. Brush butter over turnovers and sprinkle with additional sugar.
(Instead of using the butter, I simply brush the top of turnover with beaten egg yolk, and scattered some flaked almonds over the top with the sugar).
Bake turnovers until golden brown, about 30 minutes. Cool slightly. Transfer to plates and serve warm.
#26/100
To join our blog hop, click on the link below :
get the InLinkz code