Bake-Along 2nd Anniversary
Cheers !!!
This month of May marks the beginning of the third year for Bake-Along, and an end of two wonderful baking years! It has been two years since Bake-Along first started, in the beginning it was just, Lena, Zoe and myself, and later on, we have extended it to everyone who is interested to bake along with us. I would not go on and on about how Bake-Along first started, since I have written all about it when Bake-Along had it's 1st Anniversary Celebration, you may read about it here.
For the past two years we have baked a total of 43 different recipes, and we still have many, many, more, it really is a long list! I would like to extend my sincere appreciation for all the support that was given to Bake-Along to all of you who has baked along with us, and also to those who has taken the time to stop by, to read and share your valuable comments. And a very special thank you , to my two baking partners, the lovely ladies,
Lena
and
Zoe
! Cheers to everyone! Here's to another continuous year of fun and wonderful baking. Let's continue to Bake-Along together!
To celebrate Bake-Along's 2nd Anniversary, our selected theme is "Celebration Cupcakes". You may bake any cupcakes you like, that calls out for a celebration! Decorated or not, it's up to you! You decide!
As for me, I have chosen to make this delightful
Cherry-Topped Cheesecake Cups
, which for me, fits the theme perfectly! These cupcakes are elegant, pretty, and so irresistible, it really is perfect for any special occasion that calls for a celebration!
These are just so, so, delicious! A total winner!
For our next Bake-Along, we will be baking
Seeded Crackers
, recipe from Williams-Sonoma : Essential of Baking, or
here
. The linky will start on
29th May until 7th June
. Everyone is welcome!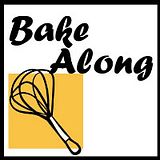 A friendly reminder when linking to our blog hop :
1. Please mention Bake-Along event in your own post linking direct to any of the hosts' post (
Joyce
,
Lena
or
Zoe
)
2.
Please link only new and current post,
related to the current bake or theme provided by us
.
Unrelated post will be deleted.
3. Feel free to display our Bake-Along badge in your post.
I have made only 3/4 of the original recipe, as I have used a standard pack of 250gm cream cheese. My measurements are listed in blue for my own record, as I will definitely be making these yummy cheesecake cups again. So good! This would be perfect for any parties, making them into small mini cupcakes, and would look make a very lovely plate!
(makes 8 cupcakes).
Cherry-Topped Cheesecake Cups
(adapted from "The Cake Book", Tish Boyle)
Makes 12 cupcakes
Graham Cracker Crusts:
1 cup (4.2oz/120g) graham cracker crumbs
( 100 gm, I use McVitie's Digestive biscuits)
1 tbsp (0.4oz/12g) granulated sugar
(9gm)
4 tbsp (2oz/57g) unsalted butter, melted
(40gm)
Position a rack in the center of the oven and preheat the oven to 325 degree F. Line 12 standard muffin cups with paper liners.
In a medium bowl, stir together the graham cracker crumbs and sugar until blended. Stir in the melted butter. Divide the mixture among the muffin cups and using your fingers, pat it into an even layer in the bottom of each cup.
Bake the crusts for 5 - 7 mins, until very lightly browned and fragrant. Cool the crusts on a wire rack while you make the filling.
Cheesecake Filling:
12 oz (340g) cream cheese, softened
(250 gm)
3/4 cup (5.3oz/150g) granulated sugar
(110 gm)
1 tsp finely grated lemon zest
(zest of 1 whole lemon)
1/8 tsp salt
(a pinch)
2 large eggs
(use only 2 whole medium eggs, without the additional yolk)
1 large egg yolk
1/2 cup (4.2oz/121g) sour cream
(90gm , I use homemade yoghurt)
Using electric mixer, beat the cream cheese at low speed until creamy and smooth, about 2 mins. Gradually add the sugar and beat until well blended, about 1 min. Blend in the vanilla extract, lemon zest and salt. Add the eggs and yolk one at a time, mix well. Add sour cream and mix until combined. Remove the bowl from the mixer stand and stir the filling a few times by hand to make sure it is smooth and well blended.
Ladle the filling into the muffin cups, filling them to the top. Bake the cheesecake cups for 20-25 mins until the top begin to crack and the centers are set. Set the pan on a wire rack and cool completely (the cheesecake cups will sink slightly in the center as they cool).
Tart Cherry Topping:
One 24 oz jar Morello cherries in light syrup
(I have used a can of 454gm sweet pitted cherries in syrup)
2 tbsp (0.8oz/25g) granulated sugar
(18gm sugar)
1 tsp freshly squeezed lemon juice
(1 tsp)
1 1/2tsp cornstarch
(1-1/4 tsp)
1 tbsp (15ml) cold water
(3/4 tsp)
1/2 tsp vanilla extract
(1/2 tsp)
Drain the cherries, reserving the syrup. Measure out 1 1/4 cups cherries and 1 cup syrup (the remaining cherries and syrup can be stored in the jar in the refrigerator for another use). Place the syrup in a small saucepan, add the sugar and lemon juice, and bring to a boil over medium high heat. Boil the syrup until it is reduced to 3/4cup, 2 to 3 mins. Remove the pan from the heat.
In a small cup, stir together the cornstarch and cold water until smooth. Whisk the mixture into the syrup and return it to medium high heat. Heat, whisking constantly, until it comes to a boil. Boil, stirring, until thickened, about 1 min. Remove the pan from the heat and stir in the vanilla extract and the reserved cherries. Let the topping cool for about 20 mins.
Spoon several cherries and some of the syrup over each cheesecake cup. Remove the cups from the pan and refrigerate for at least 1 hour before serving.
#40/100
Join our blog hop, click on the link to get the codes.
get the InLinkz code