It's crunch time at Bake-Along this week. My baking buddy,
Lena from Frozen Wings
has chosen Seeded Crackers for this week's Bake-Along#45. It has been a long while since I've bake any "crunch" in my kitchen.
There's an option to mix the dough either by hand or the food processor. Of course, I have chosen the easy and faster way, the food processor. The dough comes together in the food processor in less than 2 minutes! There's a few variation to the seeds and herbs that you can use, by changing the flavours, you can make these Seeded Crackers to your own liking. Here I have used only black sesame seeds and Herbes de Provence.
The crispy Seeded Crackers
While mixing the dough, I find that I needed to add another tablespoon of butter, as the mixture is still very floury without any visible pea-sized crumbs. This recipe uses 1 tablespoon of solid vegetable shortening, which contributes to a crispier cracker. I noticed that the amount of flour for 2 cups is stated as 315gm in the recipe, I chose to use the measurement in cups instead of the weight measurement, because as far as I know, 2 cups equals to 250gm of all-purpose flour, and not 315gm.
Once the dough comes together, it is left to rest for at least 20 minutes at room temperature. Roll out the dough to a sheet as thin as possible, it may be baked as a big cracker that fits the baking sheet, or cut to shapes. I have chosen to cut the rolled dough to squares as I love to have crispy edges all around. The recipe uses 2 teaspoons of salt which is way too high in my opinion, I have reduced it to 1-1/3 teaspoon and still find the crackers a little salty.
Baked for about 15 minutes until they are crisp and brown. Cool on wire rack until crisp.
These crackers are really crispy and very tasty.
The texture is light and crispy, buttery and a little too salty. The next time when I make this, I would reduce the salt further to maybe a scant teaspoon. Other than these, I have no complaints. I really like these crispy crackers and are very nice eaten with a cup of warm tea as an afternoon nibble.
I would definitely make this again, with other seeds and different herbs, and with addition of cheese too!
For our next Bake-Along, we will be baking based on a theme, "Theme : Cotton Soft Cheesecake". You may bake any recipe of Cotton Soft Cheesecake and link your post to the linky provided which will start on 24th June right up to 3rd July. Everyone is welcome!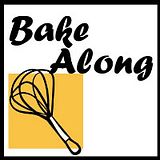 A friendly reminder when linking to our blog hop :
1. Please mention Bake-Along event in your own post linking direct to any of the hosts' post (
Joyce
,
Lena
or
Zoe
)
2.
Please link only new and current post,
related to the current bake or theme provided by us
.
Unrelated post will be deleted.
3. Feel free to display our Bake-Along badge in your post.
Seeded Crackers
(adapted from Williams-Sonoma : Essential of Baking)
2 cups all-purpose flour, plus extra for the work surface
2 teaspoons sugar
2 teaspoons salt
1 teaspoon coarsely ground pepper
1 teaspoon poppy seeds
1 teaspoon sesame seeds
1 teaspoon mustard seeds
1 tablespoon solid vegetable shortening (vegetable lard) at room temperature
1 tablespoon cold unsalted butter
1/2 cup heavy (double) cream, plus extra if needed
By food processor :
Combine the flour, sugar, salt, pepper, and poppy, sesame and mustard seeds and pulse 1 or 2 times to mix. Add the shortening and butter and pulse 7-10 times until the mixture forms large, coarse crumbs the size of peas. Pour in the cream and pulse a few times until the dough comes together in a rough mass.
Using a plastic scraper, scrape the dough out onto a clean work surface and gently squeeze it together. Add a few more drops of cream if the dough will not hold a soft shape. Gently press the dough into a disk, wrap it in plastic wrap, and let rest at room temperature for at least 20 minutes or for up to 1 hour.
Position a rack in the middle of the oven, and preheat to 350F (180C). Line 2 half-sheet pans or rimless baking sheets with parchment (baking) paper.
Unwrap the dough disk and place on a lightly floured work surface. Cut the dough in half with a sharp knife or a bench scraper. Roll out one-half of the dough into a rectangular sheet as thin as possible without tearing, dusting it with flour as needed to prevent sticking to either the work surface or the rolling pin. Trim the edges of the dough to fit the prepared pan, then carefully transfer the sheet to the pan. Repeat with the second half of the dough. Alternatively, using a pizza wheel or a sharp knife, cut the dough sheets into shapes and place on the pans.
Bake 1 sheet of crackers at a time until they are crisp and brown, 12-15 minutes. Transfer to wire racks and let cool completely until crisp. If you have baked the dough in sheets, break each sheet into shards. The crackers are best when eaten fresh, but they may be stored in an airtight container for up to 5 days.
kitchen flavours notes :
reduced the salt to 1-1/3 teaspoon and still find it salty. Will reduce to scant 1 teaspoon the next time.

will reduce the black pepper slightly as it is a little too peppery.

added in an additional 1 tbsp cold butter, as it was still very floury and no crumbs visible.

for this batch, I have omitted the poppy seeds and mustard seeds, and used 2 teaspoons black sesame seeds and 1 teaspoon Herbes de Provence.
To join our blog hop, click on the link to get the codes :
get the InLinkz code